iSoftBet's Punto Banco Game Review and Free Demo Play
iSoftBet is the developer responsible for the creation and launch of Punto Banco, and this took place in February of 2017. From the outset, it may look like this variation of baccarat is quite normal, but in fact, there's a lot more to it.
For example, it incorporates the possibility of utilising mouse gestures for proceeding with gameplay. Throughout this review, we're going to take a look at everything that Punto Banco by iSoftBet incorporates. You could also enjoy the free play demo version of it, too!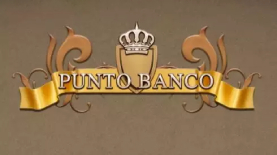 Double your first deposit and try your baccarat skills in this Punto Banco variant
RTP:
Features:
Gameplay:
Mobile:
Payout:
Overall:
Quality graphics, intuitive gameplay and easy to follow rules makes this Punto Banco by iSoftBet, the perfect game to try.
Wide betting range
Hand history feature
High RTP
A Look at the Rules
Accessing the Punto Banco game will see you playing with six decks of 52 cards each in play. The objective with the game is very similar to standard baccarat, where you need to guess which card hand – the dealer's or the player's – will have a total number of points closest to 9 or if you believe that a tie outcome will occur instead. A shuffle of the cards will also occur before each round takes place.
After you place a bet, you can request the cards to be dealt, and these are dealt out – two to the player and two to the banker – face-up. They are then tallied up to see which hand is closer to nine. Cards have values attached to them as follows:
Ace – 1 point
2 – 9 = face value
10, J, Q and K = 0 points
A third card may also be dealt to the player, and in some cases, to the banker as well. This runs in accordance with the third-card rule, which determines a third card draw depending upon the value in points from the first two cards dealt to the player. Then, depending upon the player's total, the banker may also receive the third card. If the player or the banker has a total of eight or nine points, then they both pass after the first two cards have been dealt.
Try Punto Banco by iSoftBet in Free Demo
Now that the basic rules around Punto Banco have been given to you, perhaps you'd like to try it out for yourself? We've got the demo version of the game below that you can access, giving you a chance to try out your baccarat skills on it before using your own money.
Mechanics of the Game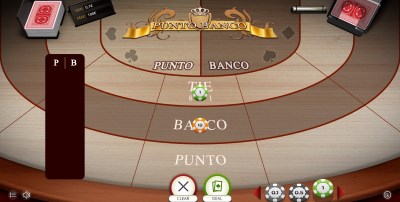 So, first things first – before you can witness any cards being dealt out, you need to place one or more bets. In the bottom-left corner of the game screen, you'll see five different chips to select from. These are visible in the values of 0.10, 0.50, 1, 5 and 10, and you can, of course, combine chips to make a specific bet amount. Keep in mind that when playing iSoftBet's Punto Banco, your bet must be between 0.10 and 100 per round. You can bet on one position or all three if you like. It's entirely up to you.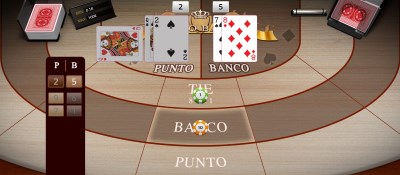 After deciding upon the bet, you want to place, you simply need to hit the Deal button, which will see the two cards dealt out to the player and two to the banker. Following the round coming to an end, you will see two buttons come into view at the bottom of the screen. These allow you to start a new game place the same bet again via the Last Bet button or Rebet & Deal instantly.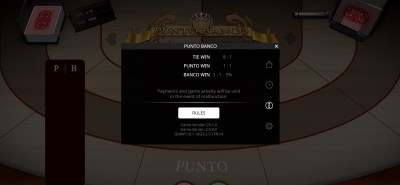 A variety of game settings can also be tampered with, should you feel the need to do so. In the bottom-left corner is a wrench button, which opens the Options menu. There, you can adjust the sound. You can also increase or decrease the speed that the game occurs at, turn on mouse gestures (which we'll get to a little bit later) and show warning messages regarding minimum and maximum bet limits being placed, your bet being altered and not having enough money to place such a bet as requested.
What You Need to Know about the Payout
If you decide to play the Punto Banco game from iSoftBet, then you will be accessing a game that comes with an RTP rate of 98.94% for banker wins and 98.76% for player wins. This makes it quite the appealing title to place bets on, especially if you have quite a decent bankroll. Naturally, the RTP rate for a tie outcome is considerably less at 85.64%. On the whole, this stands as being quite the decent variation of baccarat for players to access and receive returns from.
Banker
Player
Tie
Payout:
0.95:1
Payout:
1:1
Payout:
9:1
RTP:
98.94%
RTP:
98.76%
RTP:
85.64%
Special Features of the Game
While there aren't any specific side bets available to place in Punto Banco, that doesn't mean that it is devoid of special features to make use of and benefit from. We mentioned earlier about the mouse gestures perk that you can utilise while playing, which gives you the possibility of using your mouse to control the game with simple movements, rather than by clicking buttons all the time.
Keyboard shortcuts can also be used to maximise the game to full screen, cancel bets, mute the volume, hide windows and much more. Turbo play is also selectable from the Options menu, which means that you won't see any dealing animations, and the cards will instantly appear already dealt face-up for you. This speeds up the process of gameplay considerably.
Punto Banco by iSoftBet
Additional features
Side bets
No
Roadmap
No
Decks
6
Min bet
$10
Max bet
$1,000
Conclusion
Punto Banco would definitely be a great place for newcomers to the world of baccarat to start. iSoftBet has crafted the game with appealing enough graphics and smooth gameplay, while the addition of various customisation possibilities makes it that bit more accessible.
Other Baccarat Games to Try