Tom Horn's Baccarat – Free Play and Game Review
Baccarat by Tom Horn Gaming follows in the same vein as standard baccarat gameplay, so everything should look very normal when you load it up, if you've played baccarat before. The developer released the game in 2014, and it features the same high-quality graphics that Tom Horn usually includes in its titles. While there isn't a huge number of additional functions for you to benefit from in it, Tom Horn still provides an entertaining title to play, and we've got a demo version of it for you here, too. Then, why not check it out with real money at one of our recommended casinos.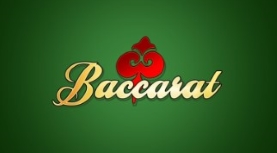 Play Baccarat by Tom Horn and claim a 100% welcome bonus
RTP:
Features:
Gameplay:
Mobile:
Payout:
Overall:
Available in 17 languages and perfectly optimized for mobile play, Tom Horn's Baccarat is a game with a medium volatility and a standard betting range suitable for all players.
Ideal High-Quality Graphics
Ability to Speed Game Up
High RTP
Playing Baccarat from Tom Horn Gaming
If you decide to play this game, then you'll get the same basic setup as is common with baccarat games overall. This means that you'll see bets for the Banker, Player, and a Tie hand. You're able to bet on a single hand in this Tom Horn version of the game, and once you place the bet on your chosen outcome, the Player and Banker are both dealt two cards, face-up. After the card values are evaluated, you'll receive a relative payout should you be a winner.
See What Baccarat by Tom Horn Gaming Looks Like
Now that we've given you some details on how the game looks, you can check it out for yourself. There's a demo game on display below for you to access and place a few free plays.
The Betting Process
You'll see that the game comes with a selection of different casino chips. You can change the value of the chip that you want to use by utilizing the relevant plus and minus buttons. This runs through chips that start at the base value of $0.20 and increase up to a maximum of $20. The minimum overall bet stands at $0.20 and you can play a round with a maximum bet of $100 in play.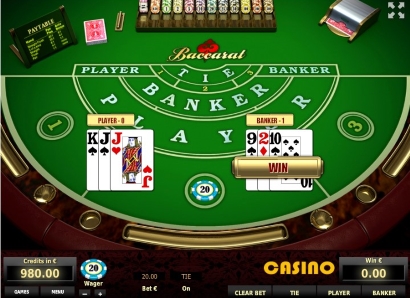 After you decide upon the bet you'd like to place, then you can select from the three outcome options of the hands – Tie, Player, or Banker. Upon choosing one of these, you'll see the two-card hands dealt and evaluated. If a third card is required afterwards, then this will also be dealt out.
Should you want to re-bet the same amount in the next round, then you can simply press on the Tie, Player, or Banker button to place it. Alternatively, you will need to select another bet amount and proceed with the betting process again. It's not only the bet that you can customize either – you can click on the Menu button and click on Options, which allows you to switch sounds on or off. Moving across to the Game tab there, you can choose to speed up or slow down the game, too.
Tom Horn Gaming's Baccarat Payouts
While playing this game, you will get to benefit from the fact that it has an RTP percentage of 98.94% attached to it. This means that the house only has an edge of 1.06%. The game itself is quite a simple setup, so you should find it to be an easy table game to access and enjoy.
With regard to the payouts, if you place a bet on the Banker being the winner, you'll receive a 1:1 payout with a 5% commission handed over to the house. A player's hand win rewards you with a 1:1 payout as well, but without the commission payment. If you bet on a tie outcome and it wins, then you will receive a payout of 9:1. If the hand is a tie and you haven't wagered on this being the outcome, then your bet is returned to you.

Banker
Player
Tie
Payout:
0.95:1
Payout:
1:1
Payout:
9:1
RTP:
98.94%
RTP:
98.76%
RTP:
85.64%
Additional Specialties of Baccarat by Tom Horn Gaming
This baccarat game is quite the simple one, so it doesn't contain any kind of special side bets or additional features. The only additional perks that you can utilize are the ones that allow you to customize the sounds and speed of gameplay, as mentioned earlier.

Baccarat by Tom Horn
Additional features
Side bets
No
Roadmap
No
Decks
1
Min bet
$1
Max bet
$5,000
Our Thoughts to Conclude This Review
This is a great version of baccarat to access, as it's quite a simple setup and utilizes the basic gameplay. You won't have any side bets or additional functions to utilize, which makes it quite appealing for newcomers. The RTP rate is high, while the payouts are slightly better than what can be found in baccarat games from other developers, too.
Recommended Tom Horn Casinos
| Casino | Bonus | Live | Side Bets | Currencies | Software | Details |
| --- | --- | --- | --- | --- | --- | --- |
| MaChance Review | Up to $250 | yes | yes | USD, EUR, GBP, CAD | Tom Horn, NetEnt | Review |
| Casoo Review | Up to $3,000 | yes | Yes | USD, EUR, GBP, CAD | Tom Horn, Evolution Gaming | Review |
| 1xbet Casino | Up to $1,500 | yes | tes | USD, EUR, GBP and more | Tom Horn, Microgaming | Review |