Mobile Baccarat Apps and Sites
As experts on all things gambling, we like to make bets and a well-educated guess every once in a while so we'll go on a limb here and assume that at least half of you are reading this on your mobile device. And to up the ante, we'll also guess that you're wondering whether you can play baccarat on the go, too.
Well, considering all modern online baccarat casinos now support cutting-edge apps you can download for your smartphone or tablet and offer in-browser play that's nothing short of the excellent quality of the desktop experience, as a player you will be spoiled for choice when it comes to playing RNG and live baccarat on a mobile device.
Best Mobile Casino Sites for Baccarat
Download a Baccarat App or Play In-Browser – What's the Difference?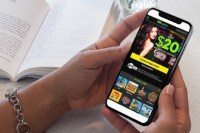 All gambling operators offer their customers the chance to take the gambling experience on the go. To this end, they offer optimized responsive design so that you can enter the website from the browser or an app available for download at the iTunes App Store, the Play Store or at the casino's website.
Brands that have been longer in the industry – before the advent of mobile – have now adapted their websites to function flawlessly on the newest devices while up-and-coming online operators are designed with the needs of mobile users in mind, launching sites that are built from scratch to perform equally well on desktop, laptop, tablets, and smartphones.
One of the reasons many baccarat online casinos decide not to launch an app are the restrictions on iTunes and Google Play. In addition, designing an app is a far more elaborate undertaking than optimizing the site for mobile browsers. Since mobile browsers don't support the Flash extension, the software has to be developed in either JavaScript or HTML5. Like we mentioned, new operators take care of this in the bud, designing their latest releases in these formats. Playing via your Safari, Opera, Chrome or other browser is fast and safe, as all data protection practices are in place.
Plus, there's no need to download anything so the concerns of an app eating into your device's memory or becoming the target of pushy commercials are out of the way. If you make a shortcut to the website on your device's homescreen, you won't even miss on the easy access rendered by the app icon.
How to Choose a Baccarat Mobile App?
With smartphones and tablets becoming the main point of access to the internet for the majority of users, online casinos are investing heavily in optimizing their games for handheld devices. As we explained, there are two ways you can enjoy mobile baccarat games on your phone or tablet – you can either download a native app or play in-browser in the mobile version of the website. Almost all developers have given their older, more popular games a makeover so that they're compatible with iOS and Android devices.
At the same time, all new games are released in HTML5 with responsive design and easy to navigate layout that looks and plays fantastic on smaller screens. However, while the quality is there, it's the quantity that might be a problem. In order to make the apps lighter, most casinos will include only a fraction of their game libraries, primarily slots. The silver lining is that the baccarat mobile games featured on mobile apps are usually player favorites so it's a safe bet that you will find the most popular baccarat games to play on the go.
Going for a famous brand or one you know and like is the obvious choice when selecting a baccarat mobile app but if you're now starting to explore the market, you may be overwhelmed by the offers. Here's a brief overview of the things you need to look for when choosing a web or mobile app.
Game selection – the game selection on mobile can be limited so make sure there's enough to keep you interested.
Free play option – desktop versions offer free play mode but keep in mind you won't find such on mobile.
Usability and functionality – is the layout easy to navigate and does it have all the necessary functions?
Security – always look for licenses and encryption certificates to be sure your data is protected.
Operating System – the Never-Ending iOS vs Android Bickering
Admittedly, until recently, Apple users had it better than the Android clientele. Like way better. Why? Well, because a funny little thing called Google had concerns such as age verification, proper licensing, and responsible gambling so much so that it didn't allow real-money gambling applications on the Play Store.
You've just got your brand new Galaxy with a huge screen and fancy features and you can't wait to take it for a spin (or a few spins) at your favorite online casino? Well, too bad for you. But! Where there's a will, there's a way so if you changed your settings to allow applications from other sources, you could enter the URL in the address bar of your browser and still download the Android app at the website.
Or, just scan the QR code on the website and voila – in a fast and simple download, there's the casino app icon nestled among the other applications on your screen, allowing instant access to your account details, with your favorite games just a tap away.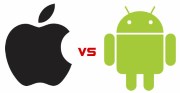 However, times are changing. Google is loosening the grip and is now starting to make available real-money baccarat apps as well as casino, poker, betting, and bingo applications at the Play Store. Don't yet rejoice because the changes are being implemented carefully and slowly – for the time being, gambling apps are allowed only to customers in the UK, Ireland, and France, plus all operators who wish to offer an app at the store need to first undergo a rigorous vetting process and prove they're eligible to offer their services to recreational players.
So far, only industry giants like 888 and William Hill are featured with their apps but we're expecting to see the list of countries and operators offering native baccarat android apps expand.
While Google was going all "You have no power here!" on gambling operators, the latter were designing and perfecting native iOS apps in multiple languages offering ever-expanding catalogs of mobile-friendly games. If you're religiously following Apple's innovations and you've always had the latest iOS device, then you sure haven't had any trouble downloading a baccarat casino app. And even if you had an older device, you still weren't missing out on all the action going down at the Casino section of iTunes. A simple update of the iOS made your device compatible with all the latest betting and gambling applications.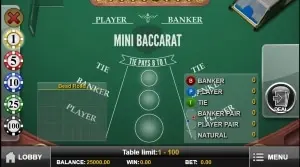 Still, don't let in a stray thought that Apple doesn't exercise strict control the way Google does. They keep to a strict policy when it comes to real-money applications and have each operator pass a rigorous verification procedure so rest assured your data is protected and you're completely safe downloading an app.
If you're not ready to commit to downloading an app, you can use the web-based app on your iPhone and iPad as well to play mobile baccarat for real money. Keep in mind there are some restrictions imposed on different countries where some legislation issues may arise but for the most part, baccarat applications offered at the iTunes App Store are a great choice for recreational players residing in countries with a well-regulated gambling market.
How to Choose and Play Mobile Baccarat Online
When you have narrowed down the app selection to web-based vs. native app and have once and for all put your foot down on the Apple or Android selecting your device and operating system, the next thing you will be looking for is the number and quality of the games available on the app. You will notice that the number of games available at mobile apps is a lot smaller than what you will find at the desktop versions of online casinos.
Microgamingmicrogaming.co.ukEstablished: 1994Location: Isle of ManGames: Over 850
One of the oldest and most prolific games developers Microgaming are already offering an impressive number of mobile-friendly games. Pioneers in the industry, they demoed the first online slot for the Samsung Galaxy Gear Smartwatch back in 2014 and their Quickfire platform keeps releasing new mobile games every month.
In September 2016, the other big players Playtech launched a brand new native app which garnered huge interest among casino players as it was lavishly praised by the critics and announced to be loading five times faster than the HTML5 version. With a device-centric layout and enhanced image quality, the app offers unsurpassed immersive experience and flexibility on all Android and iOS devices.
NetEntwww.netent.comEstablished: 1996Location: Isle of ManGames: Over 500
NetEnt are another software powerhouse that changed the standards of mobile gambling with their Touch series – a range of casino games developed specifically with the needs of mobile users in mind.
Initially, the provider redesigned some of their older games and optimized them for play on iPhones and iPads but gradually they extended to cater to the Android community as well with more, newer, and better performing games. Today, all of their new releases are launched in both desktop and Touch versions.
Another innovation from the Swedish company is their cutting-edge mobile live platform which has been designed in cooperation with real users, taking into account their needs and suggestions for improvement to offer a next-generation live casino experience on the go. Using Chroma key technology for the integration of HD images, it gives players the most authentic gaming feel anytime, anywhere. So far, it offers roulette and blackjack but we're sure a baccarat game is on the heels and it will be just as good.
One of the main reasons for that is the fact that games developed in Flash are not mobile compatible which means that software providers have to make an overhaul of all their older releases and make them mobile-friendly. The good thing is that software providers are aware of the need to offer optimized content for mobile, so a lot of effort goes in that direction on the part of some of the biggest names in the industry.
One software developer that stands out when it comes to mobile baccarat games is Play' n GO. The Swedish company was one of the first casino software providers to appreciate the need for mobile and launch a catalog of mobile-firsts that changed the iGaming industry.
Awarded Best Casino Supplier at the iGaming Excellence Awards, Play'n GO are once again setting the standards with their OMNY®-Channel solution that will enable users to switch their gameplay between land-based and online casinos. Their Mini Baccarat is completely scalable across all devices, offering functionalities like scorecards for keeping patterns spotting and history of natural hands and pairs.
Mobile Bonuses – Rare and All the More Precious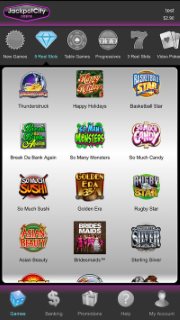 One of the biggest concerns among users who venture out into the mobile realm is the deprivation of certain features or benefits that may or may not be available only on desktop. However, when it comes to playing online, you can rest assured that you're not missing out on anything – all the game categories, FAQ sections, contact options, and most importantly – bonuses and comp points are at your fingertips.
When you open up a new account on a mobile app, you get the exact same welcome bonus as you would if you registered using the desktop version.
If you already have an account with an operator and you wish to switch to mobile, you can log in to the web or native app using the same credentials and keep piling comp points as you play. Some online gambling venues even treat their mobile users with additional perks like free spins on selected slot games, cash prizes, or no-deposit bonuses.
Most casino sites host time-sensitive promotions like raffles, daily tournaments, weekly or seasonal promotions and the good news is you can take part in all of those using your mobile device. Sometimes, there are even promos for gamblers playing on the go as well, so you never miss out on the fun.
Cross-Platform Experience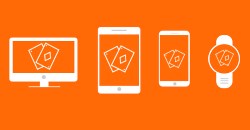 Even if a casino has a land-based venue, a great website, and a perfectly optimized mobile app, these are not enough on their own to provide the complete multi-channel experience. Ultimately, it comes down to how all of these outlets and channels work together in order to offer a seamless transition and minimize the effort of the customer when navigating the platform. Well-established operators have long utilized single-wallet accounts.
They let customers log in using the same credentials from any device, access their funds, and take advantage of the different bonuses and promotions. Some of the biggest names in the industry that have both brick-and-mortar and land-based casinos have begun to launch their products so that players can use both brick-and-mortar and online casinos.
Finance Management – Stay in Control of Your Account
Registered users who log in to their accounts on a smartphone or tablet get instant access to all funds that they have deposited or transferred prior, since baccarat providers integrate all of their outlets into a single-wallet system. This means that you can deposit on a desktop and then use your funds to play mobile games. You can also make safe deposits and withdrawals when using your mobile device. All of the widely used payment methods like debit/credit card, e-wallets, and bank transfer that you'd use while you play on your computer will be available at the mobile app as well.
More and more operators are also introducing methods to pay by mobile. Although not as widespread as using your Visa or MasterCard, it's quickly gaining ground. Boku allows mobile users to fund their online accounts with a required sum and have the amount added to their phone bill. It's a fast and reliable payment method done in a few easy steps, allowing you to deposit and play instantly and pay the money later with your phone bill, without providing any other information other than your phone number. It's not all perfect, though – there's a very low maximum deposit limit and you can't use Boku to withdraw funds.

Recommended Baccarat Online Casinos
Players from United States accepted
*T&Cs apply.
Protect Your User Account against Unauthorized Access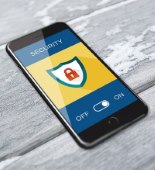 The importance of staying safe online can never be emphasized enough. And it applies to using mobile devices to play online baccarat as well. If you're playing at a licensed and regulated casino, your personal data and financial transactions are protected by an SSL encryption, making it impossible for third parties to reach it. However, if you're using a mobile app to play, you need to be extra careful.
Losing your desktop would be a really hard thing to achieve but losing or having your phone stolen is not a rare occurrence. If you haven't thought about protecting the data stored to your device, anyone who has your phone can log in to your account. Sounds scary, doesn't it? To prevent this from happening, there are some very simple security measures you can take:
Never Save Passwords – It sure is convenient using the auto-fill option and never bothering with a forgotten password again but the extra effort you put into memorizing your login details is a minor inconvenience compared to what may happen if someone gets access to your account. Most baccarat apps will log you out after a period of inactivity but it's still a good idea to log out at the end of a gaming session.
Do Not Save Payment Details – Don't use your phone as a notebook for your credit/debit card numbers, e-wallet usernames and passwords, or bank account info. Log out of any payment apps you might be using on your smartphone or tablet and don't save any details on payment methods you're using. In the event of a lost or stolen phone, unprotected accounts will be almost certainly abused, incurring serious financial losses.
Activate the Screen Lock – Other than saving you the sheer awkwardness of accidentally dialing someone or posting something on social media, a password-protected screen lock will buy you some time to report your stolen device and allow you to cancel user accounts to prevent your profiles and data from being abused. Modern devices offer many options from a simple password or PIN to a pattern, to fingerprint ID and face recognition, so make sure you take advantage of those.
Choose the Best Baccarat App for You
Nowadays, all gambling sites are optimized for mobile and offer a responsive design to allow flawless gaming experience on the go. If you access a casino via your mobile browser, you get to enjoy the same quality of graphics and animations of your favorite games, fitted perfectly onto the smaller screen. Native apps are also available so if you're willing to sacrifice some memory on your device, you can simply visit the iTunes or Play Store and choose a provider based on the selection of games and bonuses they offer. Make sure you read the bonus conditions carefully and choose an app with an intuitive layout that facilitates easy navigation and gameplay to fully enjoy a gaming experience on the go.