Baccarat Table Layout Types – Mini, Midi, and Big
Baccarat is a simple game, but looking at a baccarat table, you would be forgiven for thinking otherwise. Furthermore, there are three main versions of the game, so you may worry about identifying which table is for which. On this page, we will explain the baccarat table layout to you so that you can approach the game with absolute confidence.
One Game, Three Table Layouts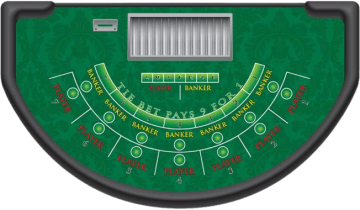 Whether you are playing baccarat online or at a land casino, it is important to understand the table layout before taking your seat. If you do not understand the table you are sitting at, then you are likely to make mistakes, which could prove rather costly.
However, despite its appearance, a baccarat table is actually very simple, and no matter where you are playing, online or offline, there are a number of common features. Essentially, there is a full-sized baccarat table and then simplified versions of it, and here we take you through all of them.
Recommended Baccarat Online Casinos
Players from United States accepted
*T&Cs apply.
Features Common to All Baccarat Tables
It is easiest to start with features that you will find on all tables. To begin with, there will be numbered positions for each of the players. This can be anything up to 14, depending on the version of baccarat being played. However, most tables omit the number 13 as it is considered unlucky, and many baccarat players are very superstitious. Some tables will also omit the number 4 for similar reasons.
Each player position will have areas where the chips are placed. There will be at least three, one for the Player bet, one for the Banker bet and one for the Tie bet. If the game offers any side bets, then there will also be positions for these.
All tables will also have a discard tray for used cards, a tip box where players can leave tips for the dealer(s), and a tray for chips that belong to the house. There will also be a shoe that holds the playing cards.
Mini Table Layout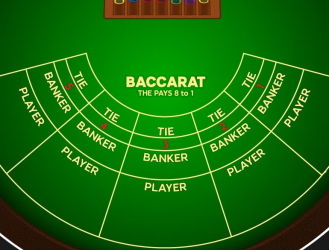 If you play baccarat online, then this is the table layout that you will be most familiar with. In many ways, it resembles a blackjack table with a dealer behind it and up to seven players seated on the other side.
As mentioned, each player position will have boxes Banker, Player and Tie, and the dealer deals the cards to positions representing the Player and Banker. If you are playing Mini Baccarat at a land casino, then the table will also have a commission section, where the dealer collects the commission from winning Banker bets. The commission section is often visible in online games as well, but it is purely decorative, as the game will automatically collect the commission from winning Banker bets.
Big Table Layout
As the name suggests, this is a far larger table than that used for Mini Baccarat. It is racetrack shaped, and there will be a small semicircle cut out along one of the straights where the caller is positioned. Some versions of baccarat require a caller and two house dealers, which explains why such a large table is needed.
However, while the table may be large, the layout is not complicated. There are several player positions (usually 12 or 14) and they will have the usual markings showing players where to place their bets.
Midi Table Layout
As the name suggests, a midi baccarat table lies in between the mini and the big. It can accommodate up to 9 players and the caller. Furthermore, often, games played at midi tables have betting limits designed for mid-rollers.
The Purposes of Different Baccarat Table Layouts
You may well be wondering what purposes the different-sized tables have. The short answer is that they are all used for exactly the same thing, playing baccarat.
The most common version of baccarat played in online casinos is Punto Banco, also known as American. It can be played at any of these tables; they simply accommodate a different number of players.
Mini Baccarat is essentially the same game. However, it removes the need to pass the shoe around the table, which is why it can be played at tables that are physically smaller. Therefore, while you will have no problem playing Mini Baccarat at a big baccarat table, you may feel a bit squashed if playing Punto Banco at a Mini Baccarat table.
When it comes to other versions of the game, namely Chemin de Fer and Baccarat Banque, these can only be played at the larger tables due to the larger number of players involved.
When visiting a land casino, the games with the higher betting limits are usually played at the big tables, while games with lower limits are played at the mini tables. Therefore, if you are looking for some high roller action, you should go in search of the big tables, which are usually located in special rooms.
A Note on Baccarat Banque
Some people think that Baccarat Banque uses a special type of table. In fact, originally, it simply used two horseshoe-shaped tables pushed together, and today, it is played at big tables. The dealer is located in the middle, and separate player hands are dealt to each side.
FAQ
How many seats are at a baccarat table?
There can be anything from 7 up to 14 seats at a baccarat table, depending on the version being played. There will also be a space for the dealer and in some versions, three dealers. The player positions are numbered, but numbers 4 and 13 are usually skipped for superstitious reasons.
Why is there no number 4 on a baccarat table?
Many players consider 4 to be unlucky. This is because in Chinese, the pronunciation of the word for the number 4 is similar to that of the word for death. In Japan and Korea, the word for the number 4 and the word for death are exactly the same.
Are there specific baccarat table layouts for different versions of the game?
No. All versions of baccarat can be played at a big table, including Chemin de Fer and Baccarat Banque. However, only Mini Baccarat, which is a version of Punto Banco can be played at a mini table.