How to Play Baccarat – Beginners Guide
For many years Baccarat was a game shrouded in mystique. However, it is actually a very simple game to master.
Players are simply betting on which of two positions, the Player or Banker, will have a total closer to 9 when all the cards have been dealt. After placing a bet, the dealer does all of the rest, but there are a few more things to understand, which shall be explained in the following Baccarat guide.
Card Values in Baccarat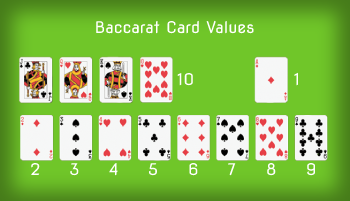 In order to calculate the hand values in Baccarat, it is important that you know the values of the cards. In Baccarat, Aces count as 1, the number cards 2 to 9 count as their face value, and tens and face cards count as zero.
However, a hand's value can never exceed 9. Therefore, if the sum of the two cards is ten or more, then ten is subtracted from the value.
For example, a hand of 7 and 6 is worth 3, not 13, a hand of 4 and 6 is worth 0, not 10, and a hand of 10 and 2 is worth 2 not 12.
Play Online for Real Money
While Baccarat is a simple game, it is also full of excitement. However, if you want to experience the full thrill of the game, then, after learning the Baccarat rules, you should try playing it for real money.
We have reviewed the best baccarat online casinos for you. All of them offer a fantastic gaming experience and provide everything you could need.
Recommended Baccarat Online Casinos
Players from United States accepted
*T&Cs apply.
Learn How to Play Baccarat
When you play Baccarat online, you will specifically be playing the game of Punto Banco. There are a few other versions of the game, but these are only found at land casinos. Each version has a specific table layout, and the first thing to do is to ensure you understand it.
The table may vary slightly depending on the game that you are playing, but there will always be two positions, one labelled 'Player' and the other 'Banker', and the cards are dealt to their respective positions. There will also be a section labelled 'Tie'. Each of these positions will have an associated betting area, and all you are required to do is place your chips in the appropriate space.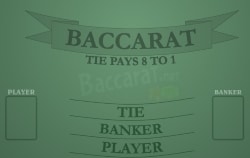 The game is played with six or eight decks of cards shuffled into a shoe. The cards are shuffled (often by a machine), and a cut-card is placed in front of the seventh from last card. The dealer will burn the first card face up, revealing its value. They will then burn that number of cards face down. Players can then place their bets on Player, Banker or Tie.
Next, the cards are dealt. Two are dealt to each position, starting with the player and then alternating between each position.
Depending on the version of the game that you are playing, they may be dealt face up or face down. This makes absolutely no difference to the outcome of game, but if they are dealt face down, it increases the tension and excitement, while if they are dealt face up it results in a faster game.
If either of the hands has a total of 8 or 9 it is called a "natural". This ends the round and betting may begin on the next round. If neither of the hands has a natural, then one or both hands may be dealt a third card.
Once all of the cards have been dealt, winning bets are paid out. In nearly all Baccarat games, a winning Player bet pays 1:1, a winning Banker bet pays 1:1 minus a 5% commission, and a winning Tie bet pays 8:1 (however, there are games that pay 9:1 for a Tie).
It is also worth noting that there are No Commission Baccarat games. In these games, the Player and Banker bets both pay at 1:1, unless the Banker wins with a 6, in which case the Banker bet pays 0.5:1.
Baccarat Drawing Rules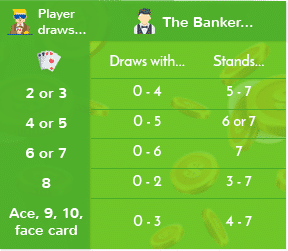 As mentioned in the baccarat rules section above, if neither of the positions are dealt a natural (a total of 8 or 9), an additional card may be dealt to one or both the player and the banker.
3rd Card Rules for the player
The third card rules for the player position are very simple. If the Player hand is worth five or less, then the hand receives a third card.
3rd Card Rules for the banker
The third card rules for the banker are more complicated: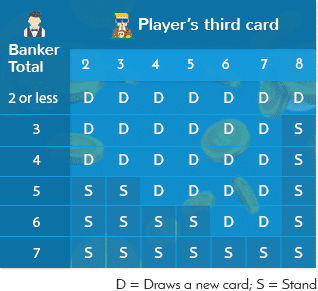 If the Player does not receive a third card:
The Banker hand stands if it is worth 6 or more and draws if it is worth 5 or less (the same as the Player rules).
If the Player did receive a third card:
If the Banker total is less than or equal to 2 then a third card is drawn.
If the Banker total is 3 the Banker receives a third card if the Player third card is not an 8.
If the Banker total is 4 then the Banker draws a third card if the Player third card is not a 0, 1, 8 or 9.
If the Banker total is 5 then the Banker draws a third card if the Player third card is a 4, 5, 6, or 7.
If the Banker total is 6 then the Banker draws a third card if the Player total is 6 or 7.
The Banker will stand on a total of 7.
Types of Bets
One of the reasons why Baccarat is so easy to master is that the game offers just three types of bets. At first glance these bets seem incredibly straightforward, and the truth is that they are.
However, there are a few details that it is important to be aware of, especially if you want to improve your Baccarat strategy.
Player Bet
This is a bet on the Player position having a higher value than the Banker position. It has a house edge of just 1.24%.
Banker Bet
This is a bet on the Banker position having a higher value than the Player position. It has an even lower house edge of 1.06%. This is due to the way in which the third card rules work and it is the reason why there is a 5% commission on winning Banker bets in the regular version of the game.
Tie
This is a bet on the two hand positions having the same value once all of the cards have been dealt. In a game that pays 8:1, it has an enormous house edge of 14.4%. In games that pay 9:1 for a Tie, this edge is significantly reduced to 4.85%.
| Outcome | Combinations | Probability | Banker Bet Return | Player Bet Return | Tie Bet 8 to 1 return | Tie Bet 9 to 1 return |
| --- | --- | --- | --- | --- | --- | --- |
| Banker Wins | 2,2922,252,566,437,888 | 0.458597 | 0.435668 | -0.458597 | -0.458597 | -0.458597 |
| Player Wins | 2,230,518,282,592,256 | 0.446247 | -0.446247 | 0.446247 | -0.446247 | -0.446247 |
| Tie | 475,627,426,473,216 | 0.095156 | 0 | 0 | 0.761248 | 0.856404 |
| Totals | 4,998,398,275,503,360 | 1 | -0.010579 | -0.012351 | -0.143596 | -0.048440 |
Tips for Playing Baccarat
Bet on the banker.Those who want to follow the odds and don't mind being repetitive should only ever place the Banker bet. As explained above, it has the lowest house edge and therefore, the greatest chance of winning.
Brief sessions. Baccarat is a game with a history of superstition and many players employ systems to try to spot patterns and trends. It is important not to fall for the gambler's fallacy when playing. This is the belief that because one position has won repeatedly, it must be the turn of the next position to win. Remember, the outcome of one round will have absolutely no influence on the outcome of another.
Avoid tie. If you are going to place the Tie bet, make sure you have budgeted for it carefully. It has a hugely unfavourable house edge, and it is very rare for it to win. Therefore, it should be treated as a fun side bet.
Learn bankroll management. Never chase your losses. If you hit a losing streak, as we all occasionally do, don't start betting more than you can afford to try to recoup your losses. Start small and set loss or win limit. Once you have exhausted your bankroll for a session, it is time to leave the game and try again another day.
Try strategy to improve results. Consider using a betting system to help you manage your bankroll. When employed properly, they will help you minimise your losses and allow you to play for longer.
Look for the low commission tables at land casinos. Some casinos take a commission of 4% or lower rather than the standard 5% commission (of course, you may also be able to find no commission games).
Check the number of decks that the game is played with. Most Baccarat games will use 8 decks; however, if you can find a game that uses 6 decks this reduces the house edge to just 1.056% (from 1.06%).
Carefully check the payouts and house edge for any side bets that are on offer. Very often, while the payouts may be very attractive, the house edge will be huge, so it may be best to steer clear of them.
Strategies and Systems
Baccarat is a game of pure luck. Furthermore, after placing your bet there is nothing you can do except sit back and watch as the cards are dealt. This means that there are not really any strategies that you can use to try to improve your chances of winning.
However, there are numerous betting strategies and systems that are compatible with Baccarat. These will not improve your chances of winning, but they will help manage your bankroll and minimise your losses. On the whole, betting systems are easy to learn and use, and they are in no way considered cheating. It may be worth considering any of the following:
Martingale
D'Alembert
Labouchere
Fibonacci
1-3-2-4
Oscar's Grind
Paroli
It is also important to consider side bets when playing Baccarat. They can be hugely tempting as they offer the chance of far larger payouts than the main bets. However, as a general rule, side bets have an enormous house edge and are very difficult to win. This doesn't mean that you shouldn't place them. However, you should be sure to budget for them carefully.
FAQs
🃏 Is there a difference between Baccarat and Punto Banco?

Punto Banco

, also known as North American Baccarat, is the game that you will find at online casinos and in most land casinos. There are a few other versions of Baccarat, Baccarat Chemin de Fer and Baccarat Banque, which are only found in land casinos. If you are looking to how to play baccarat online, then for all intents and purposes, Baccarat and Punto Banco are the same.

🤝 Do I have to learn when a third card is dealt in Baccarat?

Strictly speaking there is no reason for you to memorise

the third card rules in Baccarat

as the dealer will deal the cards, if necessary. However, it is never a good idea to bet money on a game that you don't fully understand, so it is worth taking a few minutes to get to grips with them.

♣ Is it really a bad idea to place the Tie bet?

If you are looking purely at the odds then the answer is definitely yes. The Tie bet has a huge house edge and you are very unlikely to win it. However, if you treat it as a novelty bet and budget for it accordingly, then you can certainly place it from time to time.

🗺 Is it worth using the roadmap scorecards when playing Baccarat?

Many people enjoy looking for patterns in the cards and trends as they play and will use the roadmap scorecards. However, there is no use of that as the result of one round of Baccarat will have no impact on future rounds. You should treat each round as a brand new event and try to put previous rounds out of your mind.

✅ Are there Baccarat strategies that will improve my chances?

There is no strategy that will change the house edge as there are no player decisions to be made when playing Baccarat. However, you can use betting systems to help you manage your bankroll. When used properly, they can reduce your losses and lengthen your game time in the online casino or with the

live dealer

.

More Recommended Casino Sites

Players from accepted

*T&Cs apply