Baccarat Bankroll Management
In a nutshell, a bankroll is the amount of money you can afford to spend at a casino. It is not necessarily the total value of your casino chips, or your account balance; rather, it is your budget for an individual gaming session.
In other words, a bankroll is not all the money that you have. It is the money that you have set aside for one session of playing baccarat (or any other casino game). Money that you separate from your other day-to-day living expenses and savings. Only by learning to manage your casino bankroll properly can you maximize your enjoyment and ensure that you will always have enough funds available to play with.
Basic Rules for Bankroll Management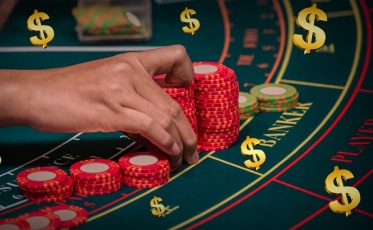 Managing your casino bankroll does not have to be complicated; there is actually just one simple principle behind it – don't gamble money you can't afford to lose. This means that when you top up your casino balance, you should only deposit a portion of your income that you know won't be missed.
The next stage is to manage your bankroll for individual playing sessions. The general consensus is that you should never risk more than 10% of your entire bankroll per gaming session. This means that if you have $500 available, then you shouldn't play with more than $50. If you then lose it all, you will have $450 remaining and can play with $45 in the next session.
The next thing to think about is how long you want to play in an individual session. If you are playing baccarat, there is a good chance that you will want to play at least 40 hands. Using the example above of having $50 for a session, it would mean that you should not bet more than $1.25 per hand. You can adapt this as you play, if you are winning, then you can increase the bet, as long as you are not risking more than your initial amount; while if you are losing and want to continue playing, then you will have to reduce your bets.
To summarize, there are four basic principles to remember when planning your baccarat bankroll:
1) Never bet what you can't afford to lose.
2) Decide how much you will risk in one gaming session.
3) Roughly decide how many hands you want to play in advance.
4) Never exceed the amount set aside for that gaming session.
Recommended Baccarat Online Casinos
Players from United States accepted
*T&Cs apply.