Understanding Baccarat Volatility and Its Practical Usages
In regards to gambling, volatility refers to the ups and downs of winning and losing over time. Put simply, volatility relates to whether a game provides the occasional very big payout with not many winning rounds in between, which is a high-volatility game, or if it supplies regular small wins and very rare big wins, which is a low-volatility game.
Baccarat has one of the lowest volatilities of all casino games. There are just three bets, Banker, Player and Tie, and the Banker hand has a 50.68% chance of winning in each round (without ties). It is the only fixed-odd casino bet where there is a greater than 50% chance of winning. This means that by using proper strategy, over time, it is possible to reduce the risk significantly when playing baccarat.
The Two Sides of Volatility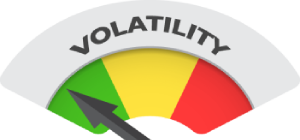 There are actually two aspects that can have an effect on a game's volatility, and this is sometimes referred to as 'The Two Sides of Volatility'. The first side is one that players control, the size of the bet placed. This is usually called bankroll management. The second side is the natural way that results change over time. This is, of course, the more important part of the equation as it is what decides whether the player wins or loses.

Recommended Baccarat Online Casinos
Players from United States accepted
*T&Cs apply.