NetEnt's Baccarat Pro – Play Online for Free
NetEnt released Baccarat Pro back in 2011, but it still feels like a thoroughly modern game. It follows the standard rules and allows players to place individual bets or a combination of bets. There is a history view and easy-to-use controls that make the gameplay smooth and fast. Read on to discover more about this high-quality version of baccarat and to try a free to play demo.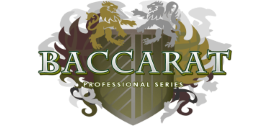 Play Baccarat Pro at this leading casino and claim a special bonus on card games
RTP:
Features:
Gameplay:
Mobile:
Payout:
Overall:
Baccarat Pro from NetEnt offers standard bets and elegant design for a straightforward gameplay.
Adjustable game speed
History board
High RTP
Baccarat Pro's Basic Rules
Baccarat Pro follows the standard rules and any player of the game will find it immediately familiar. At the start of each round, you can place Player, Banker and Tie bets, or if you prefer, a combination of all three. You bet on which position will have the higher value hand at the end of the round. Each position is dealt two cards and the cards are worth their face values, with Ace worth 1 and face cards worth 10. The game also follows the standard third-card rules, meaning the Player hand will receive a third card if the hand is worth 0 to 5, and the Banker will receive a third card depending upon the value of the Player's hand and the Banker's hand. After placing bets, all cards are dealt face-up and any necessary third cards will be dealt automatically.
Play a Demo of Baccarat Pro
Now that the basics have been covered, you can hone your baccarat skills with a free demo version of the game, before going on to play for real money. The games is fully optimized for mobile devices, so you can try it on practice or real-money play if you would like to play mobile baccarat via casino apps on your smartphone or tablet.
Extremely Smooth Gameplay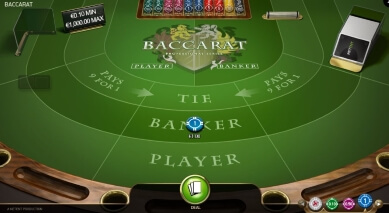 Baccarat Pro is very well designed, making the gameplay smooth and straightforward. At the start of a round, you simply need to place your chips on the appropriate part of the table. The chip values can be found in the bottom right corner of the screen; there are chips of 0.10, 0.50, 1, 5, 10, 50, 100 and 500. Simply click on the value you want and then click on the position that you want to place it on (Tie, Banker or Player). There is a minimum bet of €0.10 and a maximum bet of €1,000 for each of the three bets, meaning you can bet up to €3,000 per round.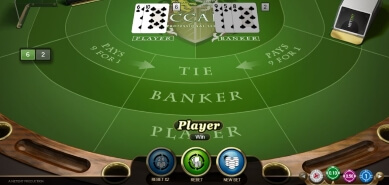 Once you have placed your bet just click on the big 'Deal' button. The cards are then dealt, including any third cards, and once the round has finished, you will be paid out any winnings. You then have three options, 'New Bet', which allows you to place an entirely new bet, 'Rebet', which repeats your previous bet, and 'Rebet X2', which doubles your previous bet. If you choose 'Rebet' or 'Rebet X2' then there is no need to click on 'Deal' again, the cards will automatically be dealt.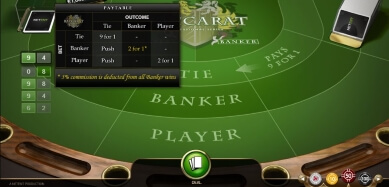 The game has a number of other controls. In the bottom left corner, you will see a volume button that opens a slider control so that you can adjust the game's volume. There is also a spanner icon, which opens the settings menu. In that menu you can turn Audio, Sound Effects, and Background Music on and off, you can also turn on or off the history display, and toggle Fast play. With Fast Play turned on, the animation of the cards being dealt is skipped and the cards simply appear face-up.
Standard RTP and Payouts
Baccarat Pro offers the standard payouts, which means that a Player Bet pays 2:1, a Banker Bet pays 0.95:1 (a 5% commission is taken), and a tie bet pays 9:1. The theoretical Return To Player (RTP) is 98.94% for Banker bets, 98.76% for Player bets, and 85.64% for Tie bets, which is very much the industry standard.

Banker
Player
Tie
Payout:
0.95:1
Payout:
1:1
Payout:
9:1
RTP:
98.94%
RTP:
98.76%
RTP:
85.64%
A Few Special Features
In some ways, Baccarat Pro is a very basic game; it is not full of flashy features such as the ability to squeeze cards and so on. Nor does it feature any roadmaps. However, there is a history view that appears to the left of the screen (it can be turned on and off in settings), and it will show you the results of the last ten rounds, so those who look for patterns do have some data to go on. As mentioned, it is also possible to turn on Fast Play, and this greatly speeds up the game by removing animations.

Baccarat Pro by NetEnt
Additional features
Side bets
No
Roadmap
No
Decks
8
Min bet
$0.10
Max bet
$1,000
A High-Quality Basic Baccarat Game
There is no doubt that NetEnt's Baccarat Pro is a very high-quality game. The graphics look fantastic, the controls are well thought out, and the overall experience is very enjoyable. It is an ideal game for those who are looking for all the basics, such as newcomers to the games, or advanced players who do not rely on roadmaps for their strategy. Furthermore, thanks to the very wide betting range, it is suitable for all sizes of bankroll. The only thing really missing are roadmap scorecards, but for many this won't be a problem and if you are a player who does not use them, then this is a Baccarat game very much worth playing.
Recommended NetEnt Casino Sites
| Casino | Bonus | Live | Side Bets | Currencies | Software | Details |
| --- | --- | --- | --- | --- | --- | --- |
| 22bet Casino Review | Up to $500 | yes | yes | AUD, USD, EUR, GBP and more | NetEnt, Microgaming, Evolution Gaming | Review |
| Royal Panda Casino Review | Up to $100 | yes | yes | AUD, USD, EUR, GBP and more | NetEnt, Microgaming, Evolution Gaming | Review |
| PlayOJO Casino Review | 50 Free Spins | Yes | Yes | AUD, USD, EUR, GBP and more | NetEnt, Microgaming, Evolution Gaming | Review |