Pragmatic Play's Baccarat Review and Free Play
Pragmatic Play's Baccarat is a hugely enjoyable eight-deck version of the game. It offers the standard payouts and features, including a history view, and is very well designed, ensuring that the gameplay is smooth and speedy. Read on to learn all about the game's features, to try a demo version for free, and to learn where to play for real money.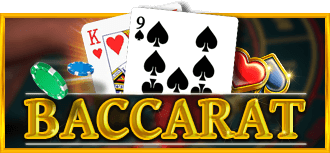 Try Baccarat by Pragmatic Play at this leading online casino and choose your welcome bonus.
RTP:
Features:
Gameplay:
Mobile:
Payout:
Overall:
A standard version played with eight decks, Pragmatic Play's RNG Baccarat allows you to customize your gameplay with thoughtful features:
Turbo mode
History view
Sound & layout controls
Pragmatic Play Baccarat Basic Rules
This is an eight-deck game that follows the standard baccarat rules. This means you bet on whether the Player or Banker hand will be worth more, or the game will end in a tie. Two cards are dealt to each position, and the cards are worth their face values (Aces are worth 1, face cards are worth 10). If a hand is worth more than 10, then 10 is subtracted from the total. A third card is dealt to the Player position if the hand is worth from 0 to 5, while the Banker position receives a third card depending upon the value of the Player's hand and the Banker's hand. In this game, all cards are dealt face-up. At the end of a round, you are paid for any winning bets.
Play a Demo of Pragmatic Play's Baccarat Game for Free
If you want to practice your online baccarat skills or simply become more familiar with the game, then you can play a demo version for free here.
Clear Controls Allow for Uninterrupted Gameplay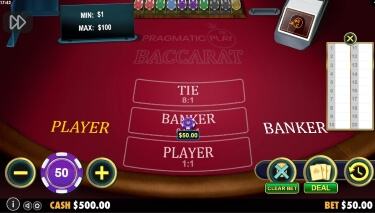 This version of baccarat has very large and clear controls that make playing the game very simple. To start a round, you first need to bet on Tie, Banker or Player. You do this by selecting your chip value using the + and – controls at the bottom left (there are chip values of 1, 5, 10, 25, 50 and 100), and then placing your chips on the relevant betting position. You can bet on multiple positions, and there is a table maximum of $100 (the minimum is $1). You can click on 'Clear Bet' to remove the chips from the table, otherwise, when you are happy with your bet, click on 'Deal'.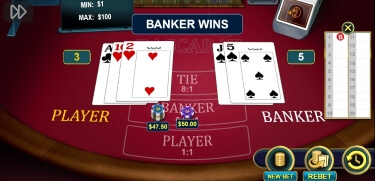 The cards are then dealt to each position, and any necessary third cards will be dealt automatically. After each round, you can click on 'New Bet' if you want to change your bet, or 'Rebet' to place the same bet again and deal the cards for the next round. The game has a number of options allowing you to customize it to your preference. Next to the 'Deal' button is a clock button and this opens/closes a history view that will show the results of the last twenty rounds.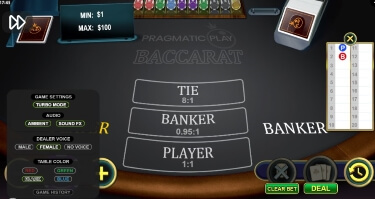 In the bottom left corner, there is a speaker icon and you can click on this to turn the sounds on or off. If you click on the gear icon, it will open a settings menu where there are many controls. You can turn on Turbo Mode to speed up the gameplay, you can turn the ambient sounds and sound effects on or off, and you can choose between male or female dealer voices. You can also change the table color to be red, green, black, or blue. There is also a shortcut to turn on Turbo Mode in the top left corner of the screen; it looks like a fast-forward button.
Standard RTP and Payouts
This version of baccarat offers the standard payouts and has a normal RTP. Banker bets payout at 0.95:1 and have an RTP of 98.94%, Player bets payout at 1:1 and have an RTP of 98.76%, and Tie bets payout at 8:1 and have an RTP of 85.64%. The vast majority of online baccarat games offer the same, but some games have a slightly larger payout of 9:1 for a Tie.

Banker
Player
Tie
Payout:
0.95:1
Payout:
1:1
Payout:
9:1
RTP:
98.94%
RTP:
98.76%
RTP:
85.64%
A Few Special Features Worth Mentioning
This version of baccarat is not adorned with many special features, and this in itself may appeal to players who prefer not to be distracted. There are no side bets, it does not offer any roadmaps (although, there is a 20-hand history view as mentioned), and the closest it comes to a special feature is the Turbo Mode. However, many players will appreciate being able to customize the game in terms of table color and dealer voice.

Baccarat by Pragmatic Play
Additional features
Side bets
No
Roadmap
No
Decks
8
Min bet
$0.10
Max bet
$100
A High-Quality Basic Baccarat Game
This is an ideal baccarat variant for those who are looking for a simple game that offers all the basic features with no distracting bells and whistles. It provides traditional baccarat play that even the most experienced players will find satisfying. Furthermore, there are some nice touches, such as the ability to change the appearance and sound. The only players it may not appeal to are high rollers, as the table limit is relatively low. Nonetheless, it is an excellent choice for anyone who is not looking to bet big.
Recommended Pragmatic Play Casino Sites
| Casino | Bonus | Live | Side Bets | Currencies | Software | Details |
| --- | --- | --- | --- | --- | --- | --- |
| PlayAmo Casino Review | Up to $1,500 | yes | yes | AUD, USD, EUR, GBP and more | Pragmatic Play, Microgaming, Evolution Gaming | Review |
| Casoo Casino Review | Up to $3,000 | yes | yes | AUD, USD, EUR, GBP and more | NetEnt, Microgaming, Pragmatic Play | Review |
| Casino X Review | Up to $2,000 | Yes | Yes | AUD, USD, EUR, GBP and more | NetEnt, Pragmatic Play, Evolution Gaming | Review |