Microgaming's Classic Baccarat – Free Play and Game Review
Microgaming first introduced its Baccarat game way back in 1999, bringing an alternative for table gamers to access. The game itself runs on standard baccarat rules, and it doesn't really contain anything other than the standard base gameplay. This means no customisation options, other than being able to adjust your bet. In this review, we're going to take a look at Baccarat from Microgaming in full and inform you on all of its mechanics. We'll also provide you with a free play version of the game, as well as recommendations of the best casinos to play it at.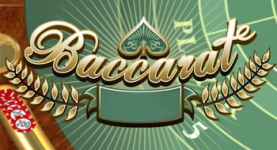 Play Baccarat at the recommended casino and get а massive welcome bonus and a bunch of free bets
RTP:
Features:
Gameplay:
Mobile:
Payout:
Overall:
If you're looking for nothing more than the straightforward Player or Banker decision, the Microgaming original baccarat release is just the ticket for you.
High-quality graphics
Great RTP Rate
Good Betting Range
The Basics of Baccarat from Microgaming
This standard version of baccarat stays true to the game's original uncomplicated gameplay, as it requires no more than the simple decision whether to bet on Banker, Player, or Tie. There are no side bets to add to your wager and no roadmap or history grid to keep track of previous outcomes or influence future bets, which makes it beginner-friendly. Unlike most other online baccarat games, this release is played with only one deck of cards, harking back to the simpler ways of online casinos from the turn of the century.
Have a Go at a Demo of Baccarat by Microgaming
Having been given some of the details of the baccarat game, why not try the demo version below and see how you fare?

How to Proceed with the Gameplay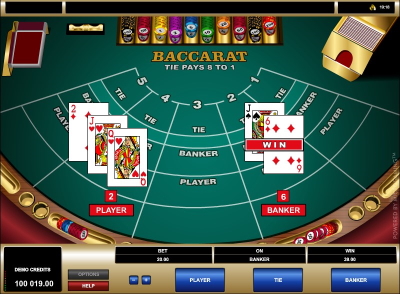 The first process that you need to go through when playing baccarat is deciding upon the bet that you'd like to place. This can be done simply by using the plus and minus buttons on display at the bottom of the game screen. With these, you will select from a bet between $10 and $500. These are the minimum and maximum bets that you're able to place per round as standard. Following on from this, you simply need to click on one of the three additional buttons – Player, Tie, or Banker.
After you have done so, the game proceeds with dealing the cards as mentioned before. Cards are dealt face-up, the winning hand is highlighted, and if you've placed a winning bet, you receive a payout for it. You then move onto the next round by either keeping the same bet or adjusting this and proceeding in the standard way.
The game can also be played with or without sound, although the sounds aren't anything specifically exceptional. To turn these on or off, you can just click on the speaker symbol in the top-right corner of the game. This is the only part of Baccarat from Microgaming that you can customise.
What You Can Expect as a Payout from Baccarat by Microgaming
When playing Baccarat, you'll have three different payout possibilities, which relate to the type of bet that you make – Banker, Player or Tie. If you win a Banker or Player bet, then you will receive a payout of 1:1. On the other hand, if you place a bet on a Tie outcome, you'll receive a reward of 8:1. Banker bets are paid out less a 5% commission as well, although this is only charged if your bet is a winning one.
The RTP rate that is active in this Microgaming game stands at 98.99%, making it quite the appealing table game. After all, if the house edge is only 1.01%, then you stand much more of a chance of winning. And that's not difficult to believe either, due to the fact that the game only has three betting options and in the majority of cases works on the basis of adding up two cards.

Banker
Player
Tie
Payout:
0.95:1
Payout:
1:1
Payout:
9:1
RTP:
98.94%
RTP:
98.76%
RTP:
85.64%
The Special Features of the Game
The Baccarat game from Microgaming doesn't really provide anything alternative to the standard gameplay. It's just the basic game where you place a bet on what you believe the outcome of the hands dealt will be and then proceed on to the next round.

Baccarat by Microgaming
Additional features
Side bets
No
Roadmap
No
Decks
1
Min bet
$10
Max bet
$500
A Great Option for Beginners
If anyone wants to involve themselves with playing the game of baccarat in general, then we'd definitely suggest that this Microgaming version of it is a great place to start. The gameplay is very simple, you don't need to worry about whether there are side bets or anything else included in it, and the setup is easy to understand, too. Visually, it utilises Microgaming's usual brand of high-quality graphics and presents an entertaining game to play overall.
Recommended Microgaming Casinos
| Casino | Bonus | Live | Side Bets | Currencies | Software | Details |
| --- | --- | --- | --- | --- | --- | --- |
| Casoola Review | Up to £/C$1,500 | yes | yes | USD, EUR, GBP, CAD | Microgaming, NetEnt | Review |
| Kassu Casino Review | Up to £/$1,500 | yes | Yes | USD, EUR, GBP, CAD | Microgaming, Evolution Gaming | Review |
| 22bet Casino | Up to $300 | yes | tes | USD, EUR, GBP and more | NetEnt, Microgaming | Review |