Iron Dog's 3D Baccarat Game Review and Free Play
This is a fun, stylish baccarat game from the developers at Iron Dog. It uses a simple, classic approach to this card game, with all of the betting options that you would expect to find and a very easy user interface. You can even give it a try in the demo mode before playing with real cash, if you like.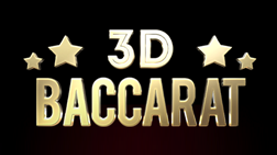 Play 3D Baccarat for real money today and claim a generous welcome package
RTP:
Features:
Gameplay:
Mobile:
Payout:
Overall:
The 3D Baccarat release from Iron Dog Studio is suitable for all players as it applies standard rues and has a wide betting range.
Fast game speed
History details
High RTP
A Look at the Rules
You will find in here all of the usual options that you would expect to see on a professional online baccarat game. This means that you can bet on the Banker or Player winning, or on the round ending in a Tie. As usual, it is the hand that adds up to a total closest to 9 that wins each time. Each of the possible outcomes has a unique payout and RTP associated with it, as we have noted a little bit further below.
The third card rules apply when neither the Banker nor the Player has 8 or 9 following their first couple of cards, and they are clearly explained in the FAQ. Basically, a third card is dealt according to the rules stated, with the Banker's rules depending upon what the Player does. Cards are dealt swiftly and facing up from six decks of 52 cards that don't have any jokers in them.
Play the 3D Baccarat Demo Game
Having seen the basic details of 3D Baccarat, you may be keen to give it a try now. This can be done very simply by playing the demo game that is linked below.
The Gameplay Basics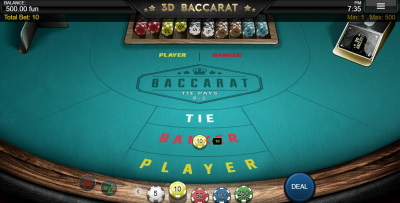 You won't need long to get into the swing of things in this baccarat game from Iron Dog as it sticks to standard baccarat rules. To get going, you just need to choose your bet size first of all, by placing the right size of chip on the appropriate section of the table. The minimum that you can place on a hand is $1, while you can go up as high as the maximum of $500 if you prefer. After you have placed your chip on Banker, Player or Tie, the next step is to click on the Deal button.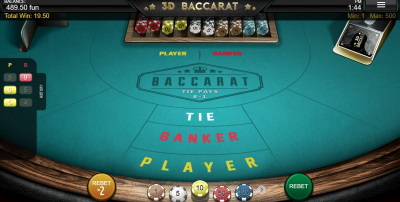 The cards are then swiftly dealt, and the result is confirmed, with a third card dealt if needed according to the game rules. Once the hand is over, you can choose the Rebet option or else pick a different size of chip to place a new value of bet instead. A 2x Rebet button also lets you double your original stake on the same outcome for those occasions when you feel confident about upping the stake. It is possible to play the whole game in silence or else with some classy music and commentary in the background. In fact, you can choose to have only the music and not the commentary, or vice versa.
Baccarat 3D RTP and Different Payouts
The RTP on this 3D Baccarat game is quite high, at 98.94%. This stands up well to other baccarat variants, although it is fair to say that it is a card game that typically has a high RTP anyway. In fact, the RTP on this Iron Dog game varies according to the exact type of bet you place, with the Banker offering the highest figure and the tie the lowest.
The payouts for each winning hand are all fairly standard, and in line with what you have probably seen in other variants of baccarat. If you correctly bet on the Player, you are rewarded at the rate of 1 to 1. The Dealer payout is the same but with 5% commission taken off, to give you a rate of 19 to 20. Correctly guess that it will be a tie and the payout you receive is 8 to 1.

Banker
Player
Tie
Payout:
0.95:1
Payout:
1:1
Payout:
9:1
RTP:
98.94%
RTP:
98.76%
RTP:
85.64%
Special Features of Iron Dog's 3D Baccarat
This 3D Baccarat title is very much a simple and to the point version that sticks to the basics. It doesn't mess around with side bets or flashy features that could take away from the timeless appeal of this classic card game. One potentially useful addition you might like to check out is the history button, which lets you see the hands that the Banker and Player have received to date.
The fast play option also gives you the chance to speed your way through more games than would otherwise be the case. This is a good choice if you are short of time and want to whizz through more hands in less time. There is no auto play feature on here, though. Overall, there are very few distractions to take away from the general flow of a classic approach to baccarat.

3D Baccarat by Iron Dog
Additional features
Side bets
No
Roadmap
Yes
Decks
6
Min bet
$0.50
Max bet
$200
A Baccarat Game That Most Players Will Enjoy
This is a solid and fairly straightforward baccarat option for anyone who wants to give it a try. It is suitable for newcomers, as it is very easy to play and the rules are explained in simple language. Experienced players will also be pleased to find a version of the game that contains few surprises and is like other variants they have probably played before.
The relatively broad range of possible stakes means that it will appeal to both high rollers and those who are more comfortable with smaller wagers. The ease of play and the speed with which the cards are dealt mean that it is suitable for anyone who is looking for a quick, enjoyable card game.
Other Baccarat Games to Try
Recommended Casinos
| Casino | Bonus | Live | Side Bets | Currencies | Software | Details |
| --- | --- | --- | --- | --- | --- | --- |
| Melbet Casino | Up to $1,750 | yes | tes | USD, EUR, GBP and more | Iron Dog, NetEnt and more | Review |
| bet365 Casino Review | Up to $100 | yes | Yes | USD, EUR, GBP and more | Iron Dog, Microgmaing and more | Review |
| BetWinner Review | Up to $300 | yes | yes | USD, EUR, GBP and more | Iron Dog, NetEnt and more | Review |