Baccarat Game Review – The Basic Details and Demo Play
You will find a straightforward baccarat variant at the heart of this game from Multislot. It has a slick presentation and easy to understand controls that let you get going with little or no effort. You can dive right in and start playing for real money, or else get going with dummy cash on the demo version.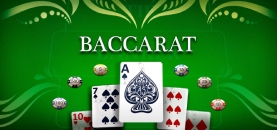 Enjoy the impressive welcome bonus and the great game portfolio of games
RTP:
Features:
Gameplay:
Mobile:
Payout:
Overall:
This classic baccara game by Multislot guarantees you a quality online casino experience.
Excellent gameplay
High RTP
Intuitive design
Understanding the Rules of the Baccarat Game by Multislot
Conventional baccarat rules are used in this game. As you would expect, the Dealer and the Player are each dealt a couple of cards, with the possibility of a third depending upon the numbers in the first two. The closest to nine wins, and you can bet on either the Dealer or the Player doing this, or it ending in a tie. Your exact winnings will depend upon the bet made, as the payout varies according to the three different types of bet.
The game's rules do a good job of explaining when the third card is to be dealt. These are fairly standard rules, and we start off with the idea that a third card isn't given when both hands total 8 or 9. After this, the rules explain each additional step in working out whether another card is needed. All of the cards are placed face-up, and the dealing process is fast and smooth. 8 decks of cards are used, and they are shuffled after every game.
A Demo Game Is Available
Now that you have seen how Baccarat from Multislot works, you might want to play the game. You can do this very easily and without any risk by trying the demo version that you will see below.
Read All about the Gameplay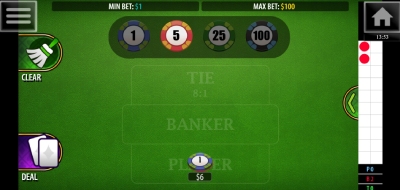 This is the sort of card game that you can just start playing right away without any tuition. The developers at Multislot have produced the sort of easy approach that anyone can pick up in a matter of seconds. Your first step is to choose a size of the chip and move it across to the Dealer, Player or tie betting area. The lowest allowed bet is $1, while you can go up as high as $100 if you want to. After that, click on Deal to see the cards, or else Clear to start again.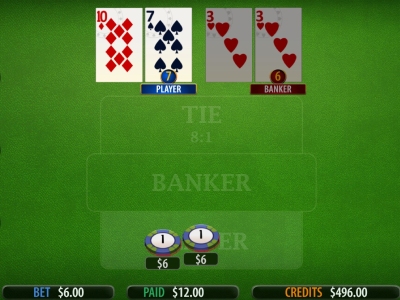 You will see the cards getting dealt and there is no delay when a third card is to be dealt. The result is then confirmed instantly and if you win then the winnings will fly straight into your account. To play another hand, you can either choose Rebet or else Clear to select a different amount.
The sound effects and commentary can be turned on or off, while a volume setting lets you get it exactly how loud or soft you want it to be. Another option is to choose the color of the felt on the table from a few different tones. The fast play setting makes games even quicker, which may be ideal for you if you are in a rush to get through some games. It is worth noting that the fast play and felt color options aren't available on mobile devices, though.
The RTP and How Much Is Paid Out on Each Bet
The house edge is listed as 1.06% on the Banker bet, which gives you an RTP of 98.94%. With the Player bet, the RTP drops slightly to 98.76%, while the tie has an RTP of 85.64%. These numbers are fairly standard for online baccarat, as most games have a very similar return.
It is a similar story on the payouts, as these are all pretty much what you would expect to receive on any baccarat variant. If you are proven to be right in thinking that the Player will win, you will receive a 1 to 1 reward. With the Banker bet, it is similar, but 5% commission is taken off to make it a 19/20 return. In terms of a tie, this gives you an 8 to 1 payout, but you should remember that the RTP is a lot lower on this bet than on the other two.
Banker
Player
Tie
Payout:
0.95:1
Payout:
1:1
Payout:
9:1
RTP:
98.94%
RTP:
98.76%
RTP:
85.64%
A Look at the Special Features
It has to be said that Multislot have gone for a clean, simple approach that avoids anything too complicated. This means that there is a lack of side bets and extra features. This Baccarat game is focused purely on the time-honored mechanics that most players should already be familiar with. Having said that, the history button is a nice touch, as it shows you how previous games have played out.
The fast play option is worth checking if you are playing on a desktop device and want to play at a faster speed than normal. Apart from these details, there is very little here to take your mind off the basic gameplay. It is a simple game that doesn't complicate your life when all you want is to place a few bets.
Online Baccarat by Multislot
Additional features
Side bets
No
Roadmap
Yes
Decks
8
Min bet
$1
Max bet
$100
Baccarat from Multislot: Our Conclusion
There is a lot to like about this version of baccarat. If you are relatively new to the game, you will soon see that it is very easy to get going and start to enjoy the unique pleasure of baccarat. As is usually the case, the only complicated part is around the rules for the third card, but they are well-explained in the help section.
More experienced players will get to play a satisfying variant of baccarat that contains all of the basics you want to see and nothing else. The betting range is a bit smaller than in some other games, so high rollers might feel themselves restricted after a while, but the minimum is low enough to make it attractive to newcomers with smaller budgets.
Other Baccarat Games to Try



Recommended Baccarat Online Casinos

Players from United States accepted

*T&Cs apply.