Microgaming's Baccarat Gold – Play Online for Free
If you've played standard baccarat before, then you'll know that it's quite a simple game. So, if you want something with a little bit more to entertain you, then you should definitely check out Baccarat Gold from Microgaming. The game was released in 2012, although you'd think it was a recent one considering how stunning its graphics are. That's just testament to Microgaming's design attributes. There's much more to it than beautiful visuals though, as you'll find out by reading this full review of the game by us. You'll also have the opportunity to play it in demo mode here, and then you can check out some of the casinos that we recommend playing it for real money.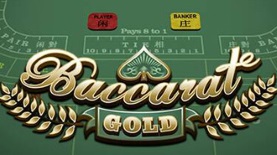 Play Baccarat Gold at 22Bet casino and claim a €300 welcome bonus
RTP:
Features:
Gameplay:
Mobile:
Payout:
Overall:
The Gold Series version of Baccarat has an array or gameplay facilitators, including combination bets, history grid, and roadmaps.
Amazing Squeeze Animations
Intriguing Inbuilt Features
Good Betting Functions
Basic Rules
Baccarat Gold uses eight decks. The basics behind the game pertain to the standard rules of dealing and drawing additional cards, calculating the value of the hands, and paying out winnings. If you're unsure about the basic rules of the game, you can peruse our baccarat guide for all the information on the basics of playing baccarat.
In this release from their Gold series, Microgaming have incorporated the additional features "rotate" and "squeeze," which are usually characteristic of live baccarat tables, making the game a real standout. When you add the multiple bets options, roadmaps, and side bets, you have all that a player could need in a virtual game.
Check It Out for Yourself
If you can't wait to see how all these options work, we've got a demo version of Baccarat Gold for you to play here. Now that you know a little bit about how it operates, you'll get to witness it all in action. See it for yourself below and keep reading for all the details on the gameplay.
Placing Bets in Microgaming Baccarat Gold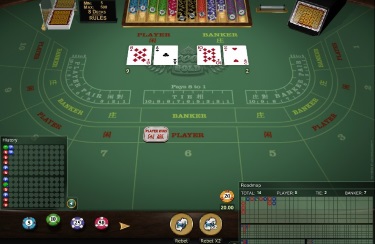 TWhile playing Baccarat Gold, you have the possibility of placing up to nine Banker or Player bets per round, and there are seven types of bets that you can utilize. These are the three standard Banker, Player, and Tie, as well as Banker + Tie and Player + Tie, and the two side bets Banker Pair Bet and Player Pair Bet.
To start a game, choose a chip value. You will see the different chips at the bottom of the game screen, starting at $5 and then increasing to $10, $25, $50, $100, and finally, $200. The maximum bet for Player and Banker is $500, and $100 for the Tie bet and the side bets. Total bets value cannot exceed $500 per round.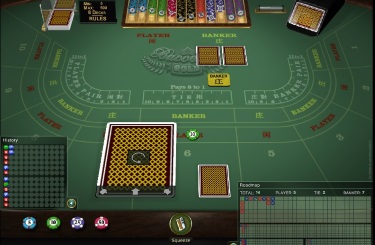 YOnce you're happy with the bets that you've placed, you can click on the Deal button, which will deal two cards for Player and Banker. Prior to the game starting for the first time, the cards are shuffled and dealt via wonderful animations. Two cards are dealt face-down for the Player and the Banker. You can rotate the cards of your bet and then click squeeze to reveal them. The totals of the cards are then tallied up and third cards are drawn if necessary.
You're able to proceed with the next round either by selecting new chips for alternative bets or by using the Rebet button to place the same bet(s) as the last round. There's also a Rebet X2 button, which doubles the bet(s) you previously placed.
Should you wish to make some adjustments to Baccarat Gold, then you can do so. Clicking on the Options button will allow you to introduce Auto-Rebet and Quick Deal, customise the sounds that you heard during gameplay and change the background colour of the Roadmap.
The RTP Rate and Payouts of Baccarat Gold by Microgaming
Baccarat Gold has three payout rates for you to be on the receiving end of, depending upon the type of bet that you place. A successful Banker bet will reward you with a 1:1 payout, less 5% commission, while a Player hand win pays 1:1. If you bet on a Tie outcome and win, you'll receive a payout of 8:1. If you manage to successfully place a side bet on either a Banker or Player pair combination, then you'll receive a payout of 11:1.
The game has an RTP rate of 98.94%, which is a wonderful overall return to player. This makes it quite appealing for all types of gamers, and it's definitely worth playing a few times. If you were to compare this with Microgaming's standard Baccarat game, which has an RTP of 98.99%, then there really isn't such a huge difference.
Banker
Player
Tie
Payout:
0.95:1
Payout:
1:1
Payout:
8:1
RTP:
98.99%
RTP:
98.99%
RTP:
98.99%
Baccarat Gold Incorporates Some Additional Perks
Baccarat Gold isn't only about the standard base gameplay, though. It also contains some entertaining inbuilt special features as well, such as the possibility of placing a side bet on if you think that the first two cards the Banker is dealt, or the Player is dealt will be a pair.
Something else that you'll notice about the Baccarat Gold game, is that it also includes the History and Roadmap features. These both work to summarize your current gameplay. The roadmap displays a trend of recent winning hands, with red symbols representing dealer winning hands and blue ones the player. A green stripe represents tied hands. Meanwhile, the History section displays a record of recent winning hands, with the same color scheme being in operation there.
Baccarat Gold by Microgaming
Additional features
Side bets
Yes
Roadmap
Yes
Decks
8
Min bet
$5
Max bet
$500
Final Thoughts on Baccarat Gold by Microgaming
Baccarat Gold does provide a much more in-depth gaming experience than a player can find in standard baccarat games, that's for sure. This may make it more appealing for gamers who have more experience with table games. However, it's not necessary to utilize all of the extra side bets and functions, so newcomers may also get the benefit of playing it. Microgaming has certainly done a stellar job with everything included in Baccarat Gold, from the graphics through to the gameplay and RTP rate.
Other Recommended Baccarat Games
Recommended Microgaming Casinos
| Casino | Bonus | Live | Side Bets | Currencies | Software | Details |
| --- | --- | --- | --- | --- | --- | --- |
| 22bet Casino | Up to $300 | yes | tes | USD, EUR, GBP and more | NetEnt, Microgaming | Review |
| Casoola Review | Up to £/C$1,500 | yes | yes | USD, EUR, GBP, CAD | Microgaming, NetEnt | Review |
| Kassu Casino Review | Up to £/$1,500 | yes | Yes | USD, EUR, GBP, CAD | Microgaming, Evolution Gaming | Review |