RTG's Baccarat – Free Play and Game Review
Playing Baccarat from RTG is a simple affair, as it follows the basic rules of the game, offering three options for betting on. It also allows you to see the history of the hands that have previously been dealt, and the game has been in operation since 2006, making it one of the older baccarat games. In this review, we're going to take a look at all of the features of Baccarat by RTG, so that we can inform you on them. You'll also have the opportunity to play the game for free and then visit one of our recommended casinos to play it with real money.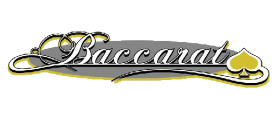 Play Baccarat at Sloto'Cash casino and claim their welcome package worth up to $7,777.
RTP:
Features:
Gameplay:
Mobile:
Payout:
Overall:
Baccarat from Realtime Gaming is suitable for all players, as it follows standard rules and offers a moderate betting range for a swift, straightforward gameplay
History Tab
Swift Gameplay
Tie bet pays 9:1
The Rules in a Nutshell
This version follows standard rules, so if you already know how to play baccarat, you will have to waste no time getting into action. And if you're not familiar with the inner workings of the game, this release is a perfect starting point with its simplified gameplay. The game uses one deck and offers a history view. The objective is simple – choose whether the Banker or Player will have a hand closer to nine without exceeding or opt for the risky Tie bet if you're feeling adventurous. Try the demo version below to get a taste and read on for all the details of playing this RTG variant.
Play Realtime Gaming Baccarat for Free in Demo Mode
If you'd like to experience Baccarat by RTG in free play mode before you play it for real, then we've got the demo version of it for you to enjoy right here. Why not check it out and see how well you fare with it?
How to Play Baccarat from RTG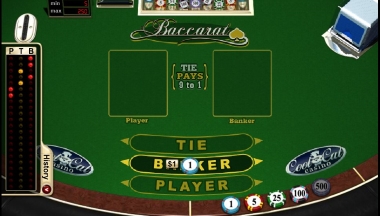 Once you load the Baccarat game up, you'll see that there's a standard enough table on display. Depending on which casino you're playing at, the color of the table will be different, as the games are branded with the casino's logo. Still, the layout is the same – sporting the standard Tie, Banker, and Player betting areas for you to select from straight away. Clicking on one of those areas will allow you to place a bet on that particular outcome. There are no side bets to choose after placing your main wager. You've got the possibility of betting anywhere between $1 and $500 per round in this game.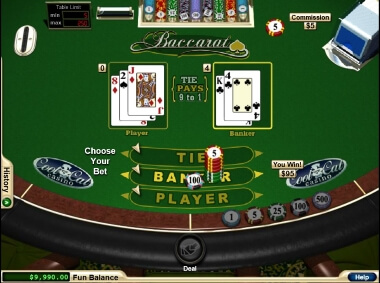 The chips run between $1 and then increase up to $5, $25, $100 and $500. You can combine chip values to create a specific amount, and you simply click on the bet you believe will be the winning one before selecting your chips. After deciding on your bet, you just need to hit the Deal button, and the cards are dealt – two for the Player and two for the Banker. The cards values are then calculated, and a payout is given to a winning bet. The game follows the standard rules for natural hands and drawing third cards. Check out our baccarat guide to learn all about these rules and card values.
After a round has completed, you can use the Rebet button that comes into view at the bottom of the screen. This replays the same bet from the previous round on the same outcome area. Alternatively, you can place a new bet by selecting the outcome area again and then choosing your chips.
RTP and Payouts
If you do decide to play Baccarat from RTG for real money, then you will probably be pleased to know about its RTP rate, which stands at 98.94%. As far as the payouts that you can receive in the game, if you bet on a Player winning hand, then you'll receive a payout of 1:1. If you bet on a Banker hand win, then you'll receive a 1:1 payout minus 5% commission. Should you bet on either of these, but the result turns out to be a Tie, your wager is returned to you. And finally, if you make a successful Tie bet, then you'll receive the highest payout of 9:1.
Banker
Player
Tie
Payout:
0.95:1
Payout:
1:1
Payout:
9:1
RTP:
98.94%
RTP:
98.94%
RTP:
98.94%
Added Features to Be Found in the Game
There aren't any customization features that this game includes, and at the same time, you won't find anything in terms of side bets. However, there is the inclusion of the History tab, which can be seen to the left-hand side of the game screen. Opening this will display the results of the previous hands, with illuminated circles showing whether it was a Player, Tie, or Banker hand. If you'd like to play a game with more features, you can try Punto Banco by Red Tiger that offers a roadmap and side bets, as well as higher betting limits.
Baccarat by RTG
Additional features
Side bets
No
Roadmap
No
Decks
1
Min bet
$0.20
Max bet
$100
A Good Option for All Baccarat Players
While it's true that Baccarat from RTG has been around since 2006, it doesn't really lose out on anything in comparison with other standard baccarat games. The setup is the same, with the three betting possibilities, with a boosted payout for the Tie bet. It does provide quite a nice place for newcomers to begin at if they're looking to get involved with baccarat online. Overall, it offers an inviting option for any type of gamer to indulge in. If you're interested in trying it right now, below, you can find our recommendations for RTG casinos where you can play this and more games from various providers.