PG Soft's Baccarat Deluxe Review and Free Play
Baccarat Deluxe from PG Soft is a clever online version of the ever-popular card game. The basic layout is simple, but the choice between Super 6 and Traditional settings let you set it up exactly as you prefer. The usual bets are available to players, and a demo play facility helps you to get settled in more easily.
In our review, we look at the basic rules, betting options, and payouts. Read on to find out all about the game, play it for free, and find recommended casinos for your region.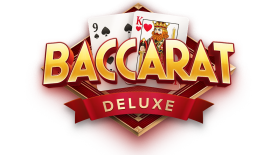 Play Baccarat Deluxe at BetWinner Casino and claim a €300 bonus
RTP:
Features:
Gameplay:
Mobile:
Payout:
Overall:
Baccarat Deluxe is available in traditional and Super 6 modes and offers exciting side bets and squeeze animations.
Animated sequences
Full roadmap
Side bet available
The Main Rules
You won't be surprised to see that you can choose to bet on the Banker, the Player, or Tie. The RTP and the payout rate both vary depending upon the bet that you make. Experienced players will already know that the hand that finishes with the total nearest to 9 wins. The issue of whether a third card is dealt is crucial, and fairly standard baccarat rules are used in that respect.
No third card is needed if the first hand of the Banker or Player is either 8 or 9. If anything else is dealt, the rules clearly explain how the game works out whether another card is to be dealt. Eight decks of playing cards are used, which are shuffled and cut as normal. A card is burned each time that they are cut.
Try Baccarat Deluxe the Demo Game
After this brief look so far at Baccarat Deluxe, you might want to start playing it. But before you head on to a baccarat casino and start laying real-money wagers, it's always a good strategy to get familiar with the game mechanics for free. To help you with that, we've provided a demo version that lets you get going with just play money on the line rather than real cash.
Discover the Gameplay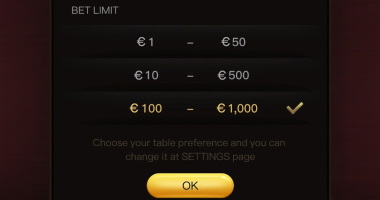 One of the best things about Baccarat Deluxe by PG Soft is that it is so easy to get started with. When you first enter, you will be asked to choose between the Super 6 and Traditional versions. Three betting limits, €1 – €50, €10 – €500, or €100 – €1,000 can be chosen in each of these variants, while there are also varying side bets on them. If you are new to baccarat, you can just watch the first few hands being played out before you decide when you want to join in and start placing your own bets.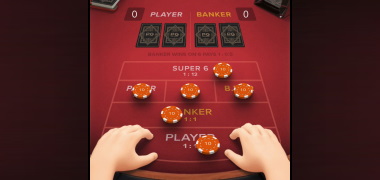 Start playing by placing a chip on Banker, Player, or tie. You can also decide whether you want to play the Super 6 or Pair side bet at this point, which is also done just by putting a chip on the right section of the table. Hit the Deal button to see the cards gets handed out. They are delivered face down, and you get to turn over the cards for the Player or the Banker, depending upon which one you bet to win. If a third card is needed, this is dealt automatically without any fuss.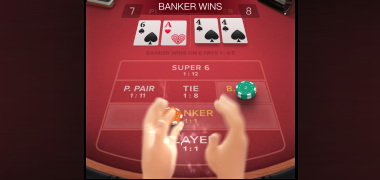 If you win, you will see your virtual hands celebrating before they drag the chips you have won into your pile. This is a nice touch and helps to set this game apart from others. When the hand ends, you can opt to Repeat, Double, or Clear. You can also pass so that you just watch the games as it happens. There aren't a lot of changes you can make to the settings, but you can turn the sound on or off. There's also a choice of tables to switch between, although the rules and the gameplay appear to be exactly the same on all of them.
Baccarat Deluxe RTP Levels and Payouts
We expect a high RTP on any baccarat game, and this version by PG Soft doesn't let us down. 98.76% is the overall figure to be aware of. If you bet on the tie, it drops to 85.64%. On the Pair side bet, the RTP is 89.64%. In the Super 6 version, this side bet has an RTP of 89.64% too.
Payouts are also based on the type of bet that you make. As is typically the case, the Player bet pays out at 1 to 1. If you choose the Banker on Super 6, a 1:1 rate is given. This is unusual, as 5% commission is usually taken off. It is explained by the fact that a hand of 6 doesn't payout for the Banker. In the Traditional mode, 5% commission is removed from the banker payout. The tie is 8 to 1.
The Super 6 side bet is paid out at 12 to 1 if the Banker has a total of 6 and the Player has less. If you correctly bet on a Pair for either the Banker of the Player, you get an 11 to 1 reward.
Banker
Player
Tie
Payout:
0.95:1 (1:1 in Super 6)
Payout:
1:1
Payout:
8:1
RTP:
98.76%
RTP:
98.76%
RTP:
85.64%
A Look at the Special Features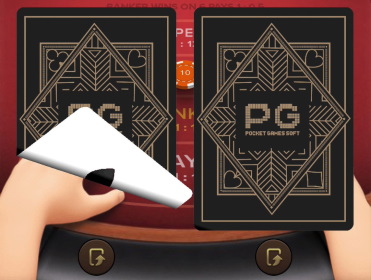 It is the side bets that make this version of online baccarat stand out as offering more interesting features than most rivals. If you like to add some excitement to your playing time, then you will be pleased to get the chance to bet on Super 6 or a Pair coming up. The RTP is lower on these bets, but if they come up, then you will land a handsome payout.
The animated sequences and the fact that you get to turn over the cards also add to this game having a different feel from most baccarat online games. These features make it a bit slower than other titles, but it adds to the tension, meaning that it might suit anyone who is happy to take a bit longer to play each game. A comprehensive roadmap lets you see exactly what has happened in previous hands too.
Baccarat Deluxe
Additional features
Side bets
Yes
Roadmap
Yes
Decks
8
Min bet
$1
Max bet
$1,000
A Distinct Baccarat Version Worth a Try
There is no doubt that this game has a different feel to it from the majority of other baccarat games out there. The animated sequences and the different side bets give us the impression of a game that is aimed more at someone looking for a different approach than a baccarat purist.
The presence of side bets can be tempting, but established players will be wary of the lower RTP that they offer. It is a bit slower than other baccarat games we have reviewed, but if you are looking for a fresh approach to a classic game, then you will probably be happy to give it a try.
Other Baccarat Games to Try
Recommended Casinos
| Casino | Bonus | Live | Side Bets | Currencies | Software | Details |
| --- | --- | --- | --- | --- | --- | --- |
| 22bet Casino | Up to $300 | yes | tes | USD, EUR, GBP and more | PG Soft, NetEnt and more | Review |
| BetWinner Review | Up to $300 | yes | yes | USD, EUR, GBP and more | PG Soft, NetEnt and more | Review |
| bet365 Casino Review | Up to $100 | yes | Yes | USD, EUR, GBP and more | PG Soft, Microgmaing and more | Review |