Mini Baccarat – All the Details about the Version
As you can easily tell by the name, Mini Baccarat is a pint-size version of the card game which still retains the elegance and simplistic gameplay we've come to associate with baccarat. It's a very popular variant played at both land-based and online casinos that offers a fast-paced and dynamic gameplay following the same rules as Punto Banco. It offers the same excitement as the other versions but it doesn't have that exclusivity since it's a low-stakes game which allows players of all budgets to join a game, be it at a brick-and-mortar or an online casino. Let's have a look at some more details about this action-packed version.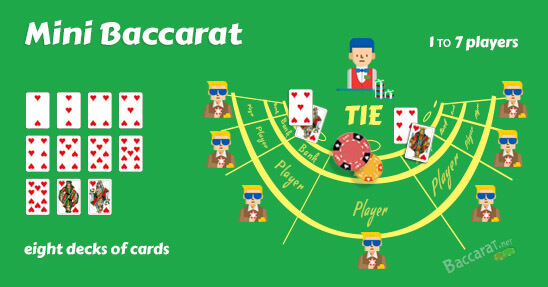 How Is Mini Baccarat Played
In this baccarat version, you have to make the same decisions as with all other variants – Banker* or Player has all participants in the game gnawing their nails, however, this choice is made at smaller blackjack-sized tables which can seat seven players and one dealer. On the table, you will see three betting areas – for the Player, Banker, and Tie bets. There are also a commission box for the Banker bet's 5% commission, and of course the chip stacks and card shoe. In Mini Baccarat, it's always the dealer that handles the card shoe and unlike in Chemin or Banque versions, players don't get to shuffle or deal the cards. 
*Check out our Glossary if you are unfamiliar with some of the terms used.
JackpotCity Casino
Get Your$1600 FREE
Cashout Time48 hours
Claim Bonus
Mansion Casino
Welcome Bonus Up To $5000
Cashout Time1-5 Days
Claim Bonus
At the beginning of each round, players place their wagers on one of the three betting areas. The dealer will shuffle the cards and place them in the shoe. Then, they draw alternately four face-up cards – two for the Player hand and two for the Banker hand: the first card to the Player, the second card to the Banker, the third card to the Player and the fourth card to the Banker.  The winning hand is the one that's closest to nine. If either hand has a nine or an eight, that's called a natural and is an automatic win. If, however, neither of the hands has a La Grande (a natural nine) or a La Petite (a natural eight), additional cards can be drawn. 
Card Values in Mini Baccarat
Mini Baccarat is played with eight decks of cards that have the following values: 
All cards from 2 to 9 have its face value.
Aces bring one point.
All 10s and face cards – Kings, Queens, Jacks – or any combination of them are worth zero points.
As in other Baccarat games, hands cannot exceed nine, so if the total of the cards is a two-digit number, ten is subtracted from the total value of the hand. So, a hand of a 7 and a 4 would be one. After the dealer announces the point count of the Player hand and the Banker hand, one additional card can be drawn for each hand. The Player stands on 6 or 7, the banker will always draw on totals of 0-1-2-3-4 and 5 and stand on 6-7-8 and 9. When the Player does not have a natural (eight or nine), the Banker always draws on the totals of 0-1 or 2, and then follows these rules: 
| Banker hand | Draws when the Player's third card is  | Does not draw when the Player's third card is  |
| --- | --- | --- |
| 3 | 1-2-3-4-5-6-7-9-0 | 8 |
| 4 | 2-3-4-5-6-7 | 1-8-9-0 |
| 5 | 4-5-6-7 | 1-2-3-8-9-0 |
| 6 | 6-7 | 1-2-3-4-6-8-9-0 |
| 7 | | Stands |
| 8 or 9 | | Natural – No Draw |
Strategy for Winning at Mini Baccarat
Mini Baccarat is a very fast-paced game, with cards drawn face-up. Not only does it lack such additional features like the Squeeze option but it's times faster than the other versions, with dealers often handling 150 – 200 decisions. Although the bet minimum is a lot smaller than other versions, playing so many rounds so fast can easily get you on a losing streak. That's why, experts advise against using a betting progression system, especially a negative progression one, as the danger of finishing your bankroll and never making up for your losses is more potent than with any other variant. The best strategy you can employ for Mini Baccarat is to bet on the Banker until it loses. Switch to Player and when Player loses, go back to Banker. In theory, this will reduce in half the decisions you have to make, which in its turn will reduce your losing expectation.
Popular Online Baccarat Versions
Game
Features
Bet Limits
Developer
Live
Play At
Progressive Baccarat

Jackpot side bet
Multi-player

5 – 250
Playtech

yes

Bet365 Casino
Baccarat Control Squeeze

Special camera views
Peel to reveal feature

25 – 25.000
Evolution Gaming

yes

888 Casino
Grand Baccarat

No commission on banker bet
Pairs side bets

3 – 100
Playtech

yes

Mansion Casino
Speed Baccarat

Fast-paced gameplay
Cards dealt face-up

1 – 5.000
Evolution Gaming

yes

JackpotCity Casino
Multi-Bet Baccarat Gold

Multiple bets
Demo version

5 – 200
Microgaming

no

Ruby Fortune Casino
Baccarat High Limits

High betting limits
Practice play

1 – 500
Microgaming

no

Royal Vegas Casino
Bets in Mini Baccarat
Every round in Mini Baccarat can result in either Player, Banker or a Tie. Like we mentioned, the best bet you can choose is Banker due to the dynamic pace of the rounds. It has a 51% chance of winning since the Banker hand is always dealt last. It has a house edge of 1.06% and pays 1:1. The Player bet has a house edge of 1.24% and pays even as well. The Tie bet is the least favorable one for players, as it has a 14% house edge and pays out 8:1. But that's not all when it comes to bets in Mini Baccarat. The Dragon Bonus is a an optional side wager available in this version. It does not affect the drawing rules or commission structure. Players have two ways to win: 
the selected hand (Player or Banker) on which the Dragon Bonus wager is placed is a natural
the selected hand wins by four (4) or more points.
The Dragon Bonus can be placed on Player or Banker hands and they are paid the same odds. Natural winners pay even-money on the Dragon Bonus bet. In the event of a Natural that ties, the Dragon Bonus pushes.  If the winning hand is not a natural, the payout of the side bet depends on the margin of victory as follows: 
| Win by | Payout |
| --- | --- |
| 9 points | 30:1 |
| 8 points | 10:1 |
| 7 points | 6:1 |
| 6 points | 4:1 |
| 5 points | 2:1 |
| 4 points | 1:1 |
The Dragon Bonus side bet is paid out after the standard bets have been reconciled according to house procedures. The house will remove losing bets immediately and then pay winners.