Habanero's American Baccarat – Free Play and Game Review
As baccarat fans will know, American Baccarat is the most common version of the game, and Habanero's release brings you all the features you need. Released in 2016, it allows you to play at up to three table positions simultaneously, it features a history view and a roadmap, and it offers the standard payouts. Read on to learn more about the American Baccarat and to try a free demo version.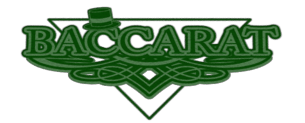 Play American Baccarat at 1xBet and claim a special welcome bonus up to $2,000.
RTP:
Features:
Gameplay:
Mobile:
Payout:
Overall:
Playing American Baccarat by Habanero allows you to place combination bets and tailor your gameplay with features like:
Three table positions
History view
Roadmap with 50 results
bmm testinglabs
iTech Labs
American Baccarat Basic Rules
The game is played with eight decks of cards shuffled into a shoe. The aim is to bet on which hand will have a higher total at the end of the round – the Player or Banker (you can also bet on a Tie). After betting is over, each position receives two face-up cards. The cards are worth their face values, with Aces worth one and face cards worth zero. If a hand's value is more than ten, then ten is taken away from the total. If the Player hand is worth five or less, then it receives a third card while the Banker hand receives a third card depending on the value of the Banker hand and the Player hand. At the end of a round, winning bets are paid out.
Play a Demo of Habanero's American Baccarat
After reading the rules, if you want to explore this game further, then you can play a demo version free here. Once you have sharpened your skills, you can then go on to play for real money at one of our recommended casinos.
Engaging and Rapid Gameplay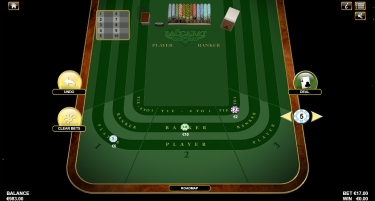 To start playing, first you need to use the arrow controls on the right to select your chip value. You can choose from 0.2, 0.5, 1, 2, 5, 10, 20, 25, 50, and 100. Then you need to place your chips in the betting positions. At each position, you can place a minimum bet of $0.20 and a maximum bet of $100 on each of the three bet types; this means that you could bet up to $900 on a round. When placing bets, you can click on 'Undo' to remove the last chip placed or click on 'Clear Bets' to remove them all from the table.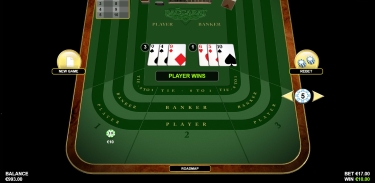 You can play at three table positions simultaneously, and at each position, you can place a combination of Player, Banker, and Tie bets. When you are happy with your bet, click on 'Deal.' The cards are dealt, including any necessary third cards, and then you will be paid out for winning bets. After each round, you can click on 'New Game' if you want to place a new set of bets, or click on 'Rebet' to place the same bet again and start the next round. The game has been well designed, and players will have no problem finding their way around the controls.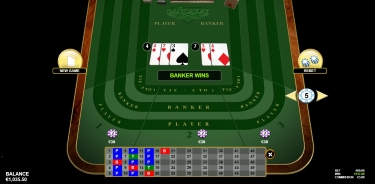 There are very few additional controls. There is a speaker icon that is used to turn the sound effects on or off. If you click on the menu icon, then there is a setting to enter full screen, as well as buttons to take you to a screen with the betting limits or the help section. At the bottom of the screen is a 'Roadmap' button; clicking on it opens an extended history view of the past fifty hands. You can choose between the history view panel that displays the last ten results or the Roadmap as the Roadmap replaces the History grid.
Standard Payouts and RTP
The game offers the industry-standard payouts and RTP. This means a successful Player bet pays 1:1; a Banker bet pays 0.95:1 (there is a 5% commission), and a Tie bet pays 8:1. While some games do offer payouts of 9:1 for a Tie, very few games will allow you to play multiple positions as this game does. The RTP for a Banker bet is 98.94%, for a Player bet it is 98.76%, and for a Tie bet, it is 85.64%.
Banker
Player
Tie
Payout:
0.95:1
Payout:
1:1
Payout:
8:1
RTP:
98.94%
RTP:
98.76%
RTP:
85.64%
A Simple Game with Few Special Features
Unlike some versions of baccarat, Habanero's American Baccarat game is not overloaded with features. It offers a solid gameplay experience, but there are no side bets, there is not an extensive choice of roadmaps, and so on. As mentioned, there is a basic history view, which displays the results of 10 rounds, and a roadmap, which displays the results of 50 rounds. What really makes the game stand out is the ability to play three positions simultaneously.
American Baccarat by Habanero
Additional features
Side bets
No
Roadmap
Yes
Decks
8
Min bet
$0.20
Max bet
$100
An Enjoyable Baccarat Variant
Habanero's American Baccarat is certainly a worthwhile version of the game. It is suitable for all types of players, beginners, experienced players, low rollers and high rollers (although, truly high rollers may wish to find a version with a higher maximum bet). The game offers all the basic features one needs, and the ability to play three positions at once opens up the possibility of even more fun. All fans of baccarat are sure to enjoy their time spent playing.
Recommended Baccarat Casinos
| Casino | Bonus | Live | Side Bets | Currencies | Software | Details |
| --- | --- | --- | --- | --- | --- | --- |
| PlayAmo Casino Review | Up to $1,500 | yes | yes | AUD, USD, EUR, GBP and more | Pragmatic Play, Microgaming, Evolution Gaming | Review |
| Casoo Casino Review | Up to $3,000 | yes | yes | AUD, USD, EUR, GBP and more | NetEnt, Microgaming, Pragmatic Play | Review |