How an Online Baccarat Player Won $300,000 from Just $60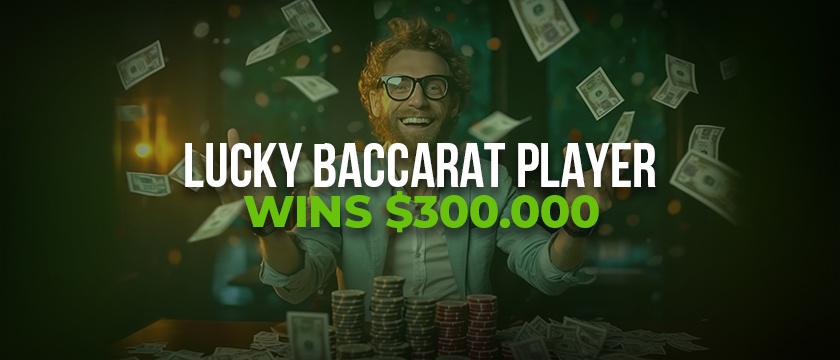 For many years, baccarat was a game enjoyed solely by high rollers and today, it is still hugely popular with those who like to bet big. However, there is no longer a need to bet big in order to play baccarat, and even those who are betting small amounts can still win huge sums of money.
A player of online baccarat from the Philippines demonstrated this when they managed to win an incredible $300,000 (17 million Philippine pesos) from a starting deposit of just $60 (3,400 pesos). It is a truly impressive feat, one that all baccarat players would like to emulate, and while it is not easy, it is worth looking at exactly how it happened.
How the Player Won $300,000
As mentioned, the player joined an online casino and deposited $60. This in itself is not uncommon; however, it is very rare for a relatively modest deposit to turn into such a substantial win.
The gambler then went on to play Evolution's Speed Baccarat. In many ways, it is a completely standard baccarat game, but there are a few differences. The basics of Speed Baccarat are as follows:
A standard live-dealer baccarat layout;
Uses 8 decks with standard rules;
Bets must be placed within 10 seconds, as opposed to the usual 15 seconds;
Standard bets such as banker, player, and tie are available;
Side bets can also be placed, including: Banker or player pair – 11:1 payout; Either pair – 5:1 payout; Perfect pairs – 25:1 or 200:1 payout (depending on the exact hand); Banker or player bonus – 30:1 payout.
Unfortunately, the casino did not provide many details of the player's baccarat strategy. However, it seems a reasonable assumption that the gambler will have started with small wagers and made a few side bets. The side bets offer far larger payouts, so they probably won one or two and then proceeded to start wagering larger amounts on the regular bets. Of course, it still relied on a great deal of luck, but it also demonstrates impressive bankroll discipline.
Casino Suspects Foul Play
Considering that the player won 5,000 times their initial deposit, it is no surprise that the casino was a little suspicious. Casinos are used to losing money occasionally to baccarat players; after all, players have close to a 50% chance of winning each hand. However, it is extremely unusual to see such a big win from baccarat.
As such, the player's account was shut down on suspicion of cheating, and the casino began an investigation. While modern technology makes it extremely rare, it is not unheard of for a player to find a way to cheat online. However, the casino's investigation, which was carried out quickly and efficiently, found no wrongdoing on the part of the player and the lucky individual soon had access to their winnings.
Tips for Winning Big Playing Online Baccarat
There is no denying that it takes an extraordinary amount of luck to turn $60 into $300,000, and there is certainly no guaranteed way of doing so. However, the following tips may help you along the way.
Plan Your Bankroll Management Carefully
To be in with a chance of winning big, you need to have a plan, and the first thing you should be thinking about is how to manage your bankroll. The first step is to work out how much money you can comfortably afford to lose. This is your bankroll, but you then need to plan how to use it. First, you need to convert your bankroll into units. For example, if you know that you can afford to bet $100 and that you normally place baccarat bets of $5, then you have a bankroll of 20 units (100 / 5 = 20).
Then, you should set a Stop-loss limit; this is the point at which you will stop playing no matter what. Using the above example, you may want to set that limit at 10 units as this way, you can be sure that you will not lose more than 50% of your bankroll in a single session (although you may wish to make it much smaller). By sticking to this, you are less likely to start the dangerous practice of chasing losses.
Bet on the Banker
One of the many great things about baccarat is that it is so easy to play with perfect strategy. This is because, in a standard commission game, the banker bet has the smallest house edge and, therefore, is the only bet you need. The banker bet has a house edge of 1.06% and the player bet has a house edge of 1.25%. The tie bet has an enormous house edge of around 14%. In other words, there is no reason to place any other bet.
Use Side Bets Cautiously
As mentioned, it seems highly likely that the player in the Philippines used a few side bets. The truth is that, in general, side bets are not recommended. They usually have an extremely high house edge and are very risky endeavors. However, if you budget for them properly, then the winnings can be huge. If you get lucky with a side bet that pays 11:1 or, better yet, 25:1 or 200:1, then your bankroll will grow significantly, and you can start placing larger wagers on the regular bets.
Look for Good Value Bonuses
Nearly all online casinos offer some form of deposit bonus, but some are better value than others. Look for bonuses that have low wagering requirements that can be fulfilled by playing baccarat. This is easier said than done, but they do exist. Furthermore, be sure to take advantage of any loyalty rewards that are on offer, as they can also help you increase your bankroll.
Start Planning Your Baccarat Success Today
We've mentioned a few times how lucky the Philippine gambler was; however, there is absolutely no reason why you shouldn't be just as lucky. Take the above tips into account, head to your favorite online baccarat casino, and who knows, you may end up the subject of our next blog post.