Unpacking Evolution's Live Baccarat Experience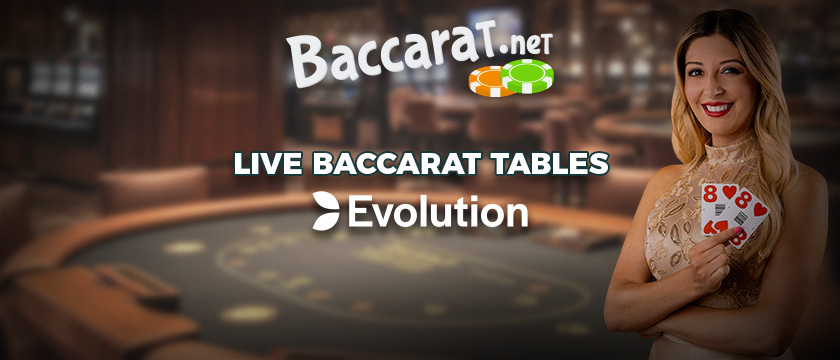 Live baccarat is ideal for those who want the authentic casino ambience but cannot always make it to a land casino or prefer to play online baccarat. Thanks to high-definition video streams, players can enjoy a truly authentic casino experience whenever they wish.
However, there are several providers of live baccarat, and each offers something a little different. Here, we will take a brief look at Evolution Live Baccarat games so that you can decide if it is the right live dealer experience for you.
The Fundamentals of Evolution's Live Baccarat
No matter which of Evolution's Live Baccarat offerings you opt for, some features remain the same. With very few exceptions, the basic rules of the game remain unchanged, as do the mechanics of how the game is played. You can check our baccarat guide if you need to refresh your memory. This ensures an air of familiarity no matter what version of the game you choose to try. When you take your seat at an Evolution table, you can expect the following:
Face-Down Cards: Typically, cards are dealt face-down, though Speed Baccarat is an exception.
Pairs Side Bet: A default option in every game.
Dealing Shoe: An 8-deck manual dealing shoe is used, changed after 7 decks have been dealt.
Manual Shuffling: A dealer's assistant does the shuffling right at the table.
Furthermore, in several of Evolution's Live Baccarat games, you will find the following:
Baccarat Road Maps:: All the traditional road maps for those who like looking for patterns.
Side Bets: Evolution gives all casinos the option to offer side bets.
Camera Views: Multi-camera views of the table.
Red Envelope Bonus: Many tables offer the Red Envelope Bonus. It triggers randomly on certain side bets and can multiply your win up to 88 times. No extra wager is required.
Evolution's Live Baccarat Variants
One of the reasons why Evolution stands out from the crowd is that it offers far more than just the standard form of a game. Baccarat fans have an extensive selection of game variants to choose from, each of which offers something slightly different.
Standard Baccarat
The basic game offers a single camera view and two viewing modes. It is very straightforward and ideal for both purists and newcomers.
No Commission Baccarat
This is identical to the standard version of the game, except that it removes the 5% commission on winning banker bets. Instead, it offers a reduced payout when the banker wins with a hand worth 6.
Speed Baccarat
For those seeking faster-paced action, Speed Baccarat deals cards face up and so a game round lasts just 27 seconds.
Baccarat Squeeze and Controlled Squeeze
The "Squeeze" is a ritual that became popular in Asian casinos and can now be enjoyed around the world. Evolution has integrated the ritual into two different live dealer games. One has the live dealer perform the squeeze, while the other gives the player control.
Lightning Baccarat and Golden Wealth Baccarat
Both these games introduce payout multipliers to the game that can lead to enormous winnings. While they cost slightly more to play, for many, the added excitement and potential returns makes it worthwhile.
Peek Baccarat
Peek Baccarat allows some tactical post-deal betting. You can increase your bet after some cards are revealed, but there is a fee for doing so.
Salon Privé Baccarat
Designed for high rollers, these tables provide a true VIP experience. Players are able to control the game speed, choose a dealer, and even decide when the cards are shuffled.
Why Evolution Stands Out
There are many providers of live baccarat games and if you are only interested in the basic game, you may be wondering what makes Evolution's version special.
Overall, Evolution delivers an extremely high-quality package. It is clear that a great deal of thought has gone into every aspect of the live baccarat experience, including the user interface, the customizable features, the camera angles, the playing environments and so on.
It is also worth highlighting the quality of Evolution's dealers. They are professionally trained to ensure that not only can they run baccarat games seamlessly, but they are also capable of interacting with players and creating an enjoyable atmosphere around the table. All too often, live dealers come across as robotic, but this is never the case with Evolution.
Ideal for All Types of Players
Whether you're craving the land casino experience or are simply looking for a more immersive baccarat experience at home, you're more than likely to find exactly what you need with Evolution Live Baccarat offering. The provider has something for every type of player and it has played a pivotal role in bringing online baccarat to the masses.