Where Can You Find an Open Tribal Casino on Thanksgiving 2020?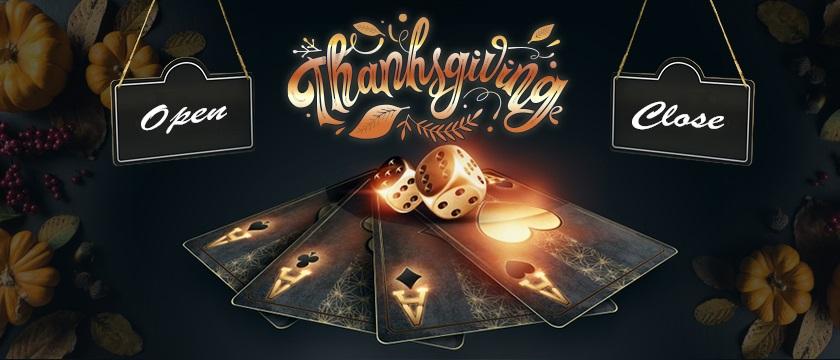 If you think that Thanksgiving is the perfect day to visit a casino, then you are probably wondering what your chances are of finding a casino that is open on this special day. The good news is that there are some great places you can visit.
Casinos That Are Going to Be Open
Among the casinos that will be open for Thanksgiving this year are those operated by the Saginaw Chippewa Tribe. They confirmed that the Soaring Eagle Casino in Mount Pleasant, Michigan will be open for business as usual, as will the Saganing Eagles Landing Casino in Standish, Michigan and their other resorts.
If you are looking for somewhere to play the slots or table games in Michigan, then these aren't your only options. The Four Winds Casino in New Buffalo is also going to be open although their children's play area and arcade will be closed. Also in Michigan, the FireKeepers Casino Hotel in Battle Creek will be operating but at just 20% of occupancy.
In other states, you can play at the Spirit Mountain Casino in Grand Ronde, Oregon, where stringent health and safety precautions are in place. In New York, the Buffalo Creek Casino is scheduled to open but minus the option of dining in the casino. Anyone in Washington can visit the Iliani Casino Resort in Ridgefield that is run by the Cowlitz Tribe.
Away from the casinos run by Native American groups, Las Vegas is predicted to be one of the top driving destinations for Thanksgiving 2020, and it is traditionally a lively atmosphere with business as normal in most of the city.
Casinos That Are Going to Be Closed
Not all of the casinos that are closed for Thanksgiving are shut due to the date. With the example of the Isleta Resort & Casino in Albuquerque, it is the Covid-19 pandemic that has caused the closure. Also in New Mexico, the Cities of Gold Casino and Buffalo Thunder Casino will have their doors closed.

In addition, the Sault Tribe of Chippewa have closed all of their Kewadin Casinos in Michigan until early 2021.

There are many great casinos open for Thanksgiving while others are closed, so it is worth double-checking with your destination before you leave home.