Hit Bigger Wins than Ever Before Playing Lightning Baccarat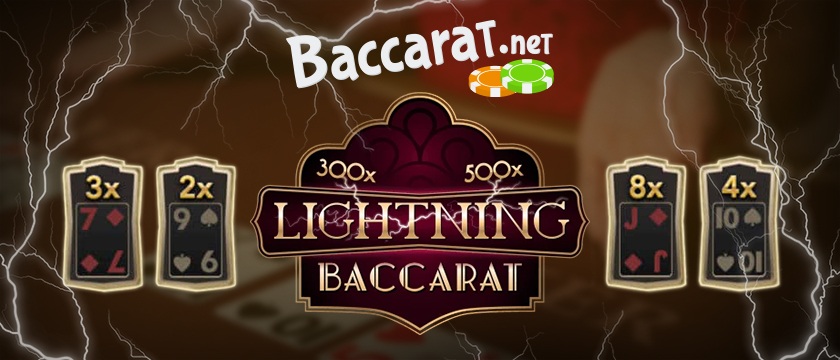 Some casino games inspire numerous variants, for instance, there are online casinos that offer their players 15 to 20 different versions of blackjack. Unfortunately, there are very few variants of baccarat beyond the three main forms of the game. However, Evolution, a market-leading provider of live dealer games known for developing innovative concepts at online baccarat sites, offers players a truly exciting version of the game Lightning Baccarat. If you are interested in increasing your baccarat payouts by more than 200,000 times, then read on.
Combining the Best of RNG and Live Dealer
Evolution has merged the worlds of RNG and live dealer games in Lightning Baccarat. At its core, it is very much a traditional game of baccarat – the world's biggest gambling game. However, with each round, players have the chance to increase their winnings massively thanks to multipliers that can grow as large as 262,144x. This means that without having to learn any more rules or strategies, baccarat players have the chance to take home enormous winnings.
A Round of Lightning Baccarat
It is important to note that those who want to play for multipliers will have to pay a 20% lightning fee on each round. In nearly every other way, the game is completely standard. It is played with a shoe of 8 decks of cards, and players can bet on the Banker, Player or Tie. It is also possible to place the Banker Pair and Player Pair side bets.
Players place their chips on the relevant betting areas during the betting period. When it comes to an end, the dealer will deal two cards to each position. The position with the value closest to 9 then wins. The usual third card rules apply. In other words, the round is played in exactly the same way as any standard game of Punto Banco
However, it is the multipliers that set this game apart, and they are worth exploring in depth.
Lightning Baccarat Multipliers
As mentioned, players place their chips on the table during a betting period. Once this period is over, the lightning feature begins. Up to five cards are picked at random and given a multiplier value of x2, x3, x4, x5, or x8. Once this has happened, the cards are dealt.
As mentioned, players place their chips on the table during a betting period. Once this period is over, the lightning feature begins. Up to five cards are picked at random and given a multiplier value of x2, x3, x4, x5, or x8. Once this has happened, the cards are dealt.
Better yet, if several lightning cards are dealt to a position, then the multipliers are multiplied together, which can lead to enormous payouts. This is also the case with bets on a Tie, and the payout can be multiplied up to 6 times. Furthermore, winnings from the side bets are also multiplied, so there is the potential for truly substantial wins.
The Pair baccarat side bet is the same as in all standard versions of the game. You need to estimate if the chosen side will have two cards of the same value. The winnings for the side bets also change depending on the multipliers.
Lightning Baccarat Odds and Payouts
The wins in Lightning Baccarat are slightly different from the regular game. To begin with, a winning Tie bet pays 8/1, and the side bets (player and banker pair) both pay 9/1, which is a bit lower than the standard game. The other payouts are standard. A winning Player bet pays 1/1, a winning Banker bet pays 0.95/1.
Lightning Baccarat Tips and Strategies
Baccarat is truly a game of luck, and there is very little a player can do to influence the outcome. With that in mind, here are a few tips that may improve your fortunes:
Due to the third card rules, there is a slightly better chance of the Banker bet winning, which is why a 5% commission is taken. With such big multipliers available in Lightning Baccarat, it is definitely worth always sticking with the Banker bet.
When playing regular baccarat, the general consensus is that the Tie bet should be avoided because of its huge house edge. In Lightning Baccarat, because of the huge multipliers, the Tie bet is worth considering. The top payout of 262,144x can only be won with the Tie bet.
Consider using a betting system such as the Martingale. This will help you manage your bankroll. There are several systems, and most are extremely simple. For example, the Martingale system requires you to double your bet after a loss and then return to the original bet after a win.
Create a budget and stick to it. This way, you will not run into financial difficulties, and you can enjoy the game with complete peace of mind. If you have a fixed amount, for instance, £100, then consider how long you want to play for, roughly how many rounds you'll play, and divide the money accordingly
Quit while you're ahead. If you are winning, then take your profit and stop playing. Otherwise, you may find you turn a win into a loss, which would be hugely frustrating.
Electrify Your Game with Lightning Baccarat
Evolution hasn't reinvented the wheel with Lightning Baccarat, but they have introduced a fun twist and the chance of some major wins. "It is true that the game offers slightly lower payouts for side bets and the Tie, but it also provides genuine excitement with every round and the opportunity to win far more than most other baccarat games. If you are a baccarat fan looking for something new, then Lightning Baccarat may be just what you need.